Bakersfield, California is home to a variety of drug and alcohol addiction treatment centers. You can find inpatient, outpatient, and residential treatment options for drug abuse in the city.
Many of these programs offer top-rated mental health services, medical assistance, detoxification, and other programs.
Each of the rehab centers in this list is licensed and features top ratings to ensure they offer excellent care.
List Of Addiction Recovery Programs In Bakersfield
We've researched each treatment facility in Bakersfield and highlighted the programs with the highest ratings and qualifications.
A few of the qualifications held by the rehab centers below include:
certifications
accreditation
high Google ratings
positive client testimonials
evidence-based treatment
1. Action Family Counseling, Bakersfield, California
The drug rehab programs provided by Action Family Counseling are accredited by the Joint Commission.
They offer treatment services such as:
Location and contact information:
3801 Buck Owens Blvd.
Suite 105
Bakersfield, CA 93308
(800) 367-8336
Get Started On The Road To Recovery.
Get Confidential Help 24/7. Call Today!
(844) 616-3400
2. Aegis Treatment Centers, Bakersfield, California
This drug and alcohol treatment center provides standard outpatient and detoxification services for opioid use disorders using methadone and buprenorphine.
The facility is one of many treatment programs provided under Pinnacle Treatment Centers, a network of addiction treatment providers with locations across the U.S.
Aegis Treatment Centers is:
accredited by the Commission on Accreditation of Rehabilitation Facilities (CARF)
approved by the Substance Abuse and Mental Health Services Administration (SAMHSA)
Testing and early intervention classes for HIV are available. They also test for Hepatitis C, sexually transmitted diseases, and tuberculosis.
Location and contact information:
1018 21st St.
Bakersfield, CA 93301
(661) 861-9967
3. American Health Services, Bakersfield, California
This is an opioid abuse treatment program offering OP, detox services, individual therapy, group therapy, and medication-assisted treatment (MAT).
Health Services offers drug treatment programs that are:
accredited by the Council on Accreditation (COA)
certified by SAMHSA
rated 4.3 stars on Google
Payment assistance is available for low-income clients.
Location and contact information:
1010 ½ South Union Ave.
Bakersfield, CA 93307
(661) 321-0234
4. Bakersfield Behavioral Healthcare Hospital, Bakersfield, California
This substance abuse treatment center is accredited by the Joint Commission and partnered with the Jason Foundation.
Addiction treatment programs offered here include:
This is a psychiatric hospital, so Bakersfield Behavioral Healthcare can also treat mental illness and co-occurring disorders
Most of their services are for adults, but some specialized programs are provided for adolescents.
Location and contact information:
5201 White Ln.
Bakersfield, CA 93309
(661) 398-1800
5. Bakersfield Recovery Services, Bakersfield, California
Bakersfield Recovery Services is licensed by the State Substance Abuse Agency.
They offer short-term and long-term residential and detoxification services for cocaine, alcohol, benzodiazepines, and methamphetamine.
Some of the special counseling services they provide are for:
anger management
relapse prevention
parenting issues
self-esteem
Location and contact information:
600 Bernard St.
Bakersfield, CA 93305
(661) 325-1817
6. Clinica Sierra Vista, Bakersfield, California
This is a primary, dental, and behavioral health treatment provider in Bakersfield.
They offer a substance use disorder treatment program that involves individual, group, and family counseling, educational groups, and relapse prevention.
This drug addiction program is backed by:
positive Google ratings and client reviews
evidence-based treatment
Location and contact information:
1400 Union Ave.
Suite. 100
Bakersfield, CA 93307
(661) 324-4756
7. Synergy Recovery Services, Bakersfield, California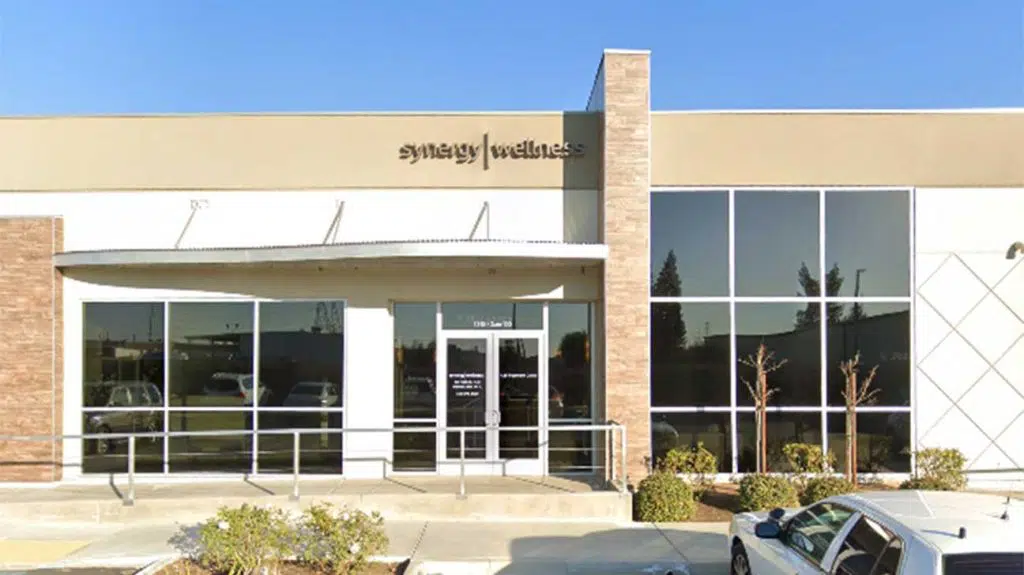 This recovery center helps individuals to overcome addictions to prescription painkillers, alcohol, and other drugs.
They offer several standard and medication-assisted outpatient programs, including:
IOP
psychosocial counseling
Marks of quality care at this southern California drug and alcohol rehab center include:
certification from LegitScript
accreditation from the Joint Commission
a 4.9-star Google rating
Location and contact information:
7910 Downing Ave.
Suite 200
Bakersfield, CA 93308
(661) 878-9930
Common Types Of Addiction Treated In Bakersfield
You can find treatment for a wide variety of substance use disorders in Bakersfield.
A few of the most commonly treated substance addictions include:
alcohol
benzodiazepines
opioids
marijuana
heroin
pain medications
cocaine
No matter the substance you or your loved one are addicted to, there is a program for you.
Many rehab centers provide detox services and medication-assisted treatment to ease withdrawal symptoms, pain, and discomfort.
Others may focus more heavily on individual therapy, group counseling, and family services to uncover the underlying issues of drug addiction.
Mental Health Treatment In Bakersfield
All rehab centers in Bakersfield incorporate mental health services into their drug rehab programs.
Some programs, such as psychiatric hospitals and counseling centers, may offer more intensive mental health treatment, including dual diagnosis treatment for co-occurring disorders.
Mental health services you may find in Bakersfield include:
one-on-one counseling
group therapy
family therapy
behavioral therapy
FAQs For Drug Dependency Centers In Bakersfield
Treatment for mental health issues and substance abuse are offered at many rehab centers in the state of California.
Review some of the most commonly asked questions about rehabilitation centers in California.
❓ What Are The Requirements To Get Into A Bakersfield Drug Rehab Program?
✔️ Generally, there are no requirements other than needing assistance overcoming substance abuse.
Some specialized programs, such as those for pregnant mothers and adolescents, may have certain demographic or financial requirements.
❓ What Are Some Reasons For Attending A Drug Rehab Facility In Bakersfield?
✔️ A few reasons to attend a Bakersfield rehab center include a range of treatment options, evidence-based treatment services, community with recovering peers, and achieving sobriety.
❓ What Types Of Drugs Are Used During Medication-Assisted Treatment?
✔️ If you choose a medically assisted program, you might find medications such as Vivitrol, Suboxone, methadone, or buprenorphine.
Learn more about the different types of MAT medications
Find A Rehab Center In Bakersfield
There are several rehab facilities in Bakersfield, California that can provide evidence-based treatment for you or your loved one.
Find treatment in a city near you:
Updated on March 21, 2022
This page does not provide medical advice.
See more
Article resources
Addiction Resource aims to provide only the most current, accurate information in regards to addiction and addiction treatment, which means we only reference the most credible sources available.
These include peer-reviewed journals, government entities and academic institutions, and leaders in addiction healthcare and advocacy. Learn more about how we safeguard our content by viewing our editorial policy.