Rockford, Illinois has been deeply impacted by the opioid epidemic that has quickly made its way across the United States. Opioid abuse can rapidly lead to addiction, which has a number of long-term consequences. For these reasons, it's important that addicted individuals get the help they need, including medical care, addiction treatment, and more.
Drug rehab programs provide a number of treatments, like medication-assisted treatment, therapy, and 12-step support groups to help individuals manage substance abuse and seek recovery. For those looking to break free from addiction, this list of the best alcohol and drug rehab centers in Rockford can help get the process started.
1. AI Tech Services
AI Tech Services is licensed by the Illinois Department of Human Services and the Illinois Department of Alcohol and Substance Abuse. They offer aftercare, intensive outpatient, and standard outpatient addiction treatment in Rockford.
These are the other services that they offer:
driver's risk education program
drug and alcohol assessments
early intervention program
individual counseling sessions
out-of-state evaluations
relapse prevention services
Location and contact information:
2233 Charles St.
Suite G
Rockford, Illinois 61104
(815) 397-3606
Get Started On The Road To Recovery.
Get Confidential Help 24/7. Call Today!
(844) 616-3400
2. Beloit Comprehensive Treatment Center
The Beloit Comprehensive Treatment Center is accredited by the Commission on Accreditation of Rehabilitation Facilities. The treatment options they offer to opiate-addicted individuals include intensive outpatient, medication-assisted treatment that includes methadone services, and standard outpatient rehab programs.
Addiction treatment includes individual and group counseling sessions, which utilize cognitive behavioral therapy, motivational interviewing, and relapse prevention counseling.
This rehab facility treats addictions to multiple substances, including fentanyl, heroin, oxycodone, Percocet, and prescription medications.
Location and contact information:
2240 Prairie Ave.
Beloit, Wisconsin 53511
(608) 361-7200
3. Changes Place
Changes Place provides several substance abuse treatment options for residents in Rockford, including intensive outpatient and outpatient rehab programs, as well as aftercare.
Alcohol and drug rehab programs here include the following addiction treatment and support services:
alcohol and drug assessments
anger management classes
counseling for dual-diagnosis disorders
drug and alcohol remedial education
DUI evaluations
early intervention and treatment services
gender-specific counseling
individual and family counseling
referrals for other services
Location and contact information:
7155 Winsdor Lake Pkwy.
Loves Park, Illinois 61111
(815) 708-6468
4. Mathers Clinic
The Mathers Clinic is a licensed rehab facility in Rockford that offers the following types of substance abuse and mental health treatment: detoxification services, medication-assisted treatment, and standard outpatient rehab programs.
They can treat co-occurring disorders alongside addiction, including anger problems, eating disorders, grief, panic attacks, stress, and many more.
Their addiction treatment modalities include:
cognitive behavioral therapy
communication enhancement therapy
conflict-resolution therapy
dialectical behavior therapy
individual, group, and family counseling
mindfulness therapy
Location and contact information:
6090 Strathmoor Dr.
Suite 1
Rockford, Illinois 61107
(815) 444-9999
5. Remedies Renewing Lives
Remedies Renewing Lives is a rehab center near Rockford that is accredited by the Joint Commission.
They offer these types of addiction treatment:
aftercare
intensive outpatient
medication-assisted treatment
standard outpatient
Addiction treatment services provided within their rehab programs include:
drug and alcohol testing
gambling addiction services
individual, family, and group therapy
intervention guidance
medical and psychological services
prevention education
relapse prevention counseling
self-help groups
This facility offers both day and evening programs for their counseling sessions.
Location and contact information:
1908 Pierce Ct.
Belvidere, Illinois 61008
(815) 547-4502
6. Restore Counseling And Recovery
Restore Counseling and Recovery is an alcohol and drug rehab center in Rockford that is accredited by the Healthcare Facilities Accreditation Program. Their current addiction treatment options are intensive outpatient, standard outpatient, and telemedicine services.
Rehab programs are individualized and include:
assessments
individual and family therapy
interventions
psychoeducation
relapse prevention services
This rehab facility is also able to treat these other, co-occurring conditions, including eating disorders, gambling, and sexual compulsions.
Location and contact information:
7210 East State St.
Suite 206
Rockford, Illinois 61108
(815) 708-7392
7. Rock Valley Community Programs
The Rock Valley Community Programs offer residential and standard outpatient substance abuse treatment. The residential program available at this rehab facility is part of a reentry program for men and women who have been released from prison and need help transitioning back into public life.
Some of the addiction treatment services patients receive during their stay here include:
anger management classes
employment assistance
family and parenting classes
life-skills classes
Homeless veterans can also find addiction treatment and a number of supportive services at this facility.
Location and contact information:
203 West Sunny Lane Rd.
Janesville, Wisconsin 53546
(608) 741-4500
8. Rosecrance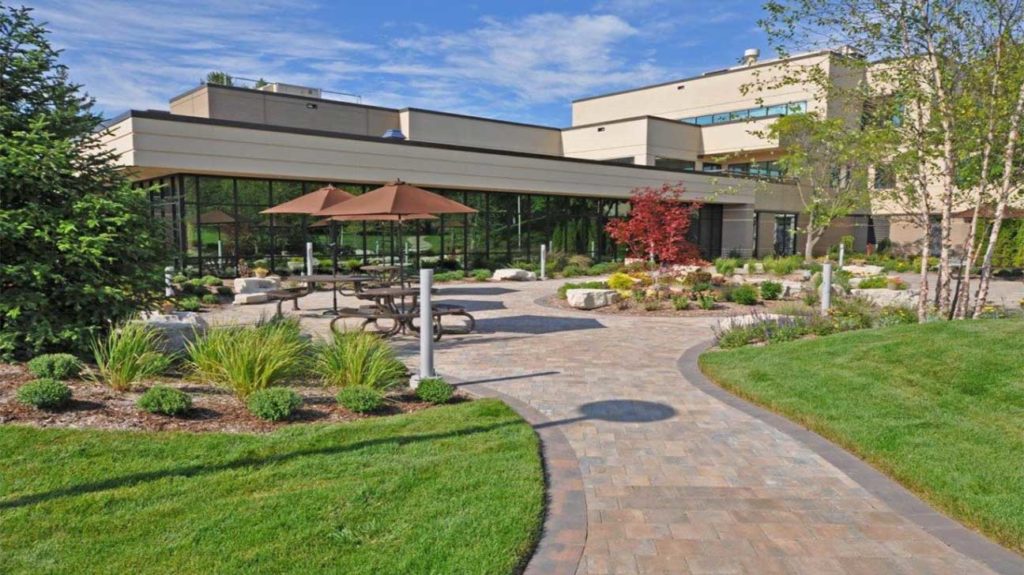 Rosecrance is accredited by the Joint Commission.
These are the drug rehab programs in Rockford that they offer:
aftercare
intensive outpatient
medication-assisted treatment
partial hospitalization
residential inpatient
sober living homes
standard outpatient
Addiction treatment modalities they use for their patients include:
art therapy
experiential therapy
family programming
recreational therapy
They treat addiction to some of the most addictive substances, including alcohol, heroin, marijuana, and opioids. Patients can also receive treatment at this rehab facility for dual-diagnosis disorders, including anxiety, bipolar disorder, depression, post-traumatic stress disorders, trauma, and more.
Location and contact information:
2704 North Main St.
Rockford, Illinois 61103
(815) 391-1000
9. Sinnissippi Centers
The Sinnissippi Centers are licensed by the Joint Commission. Substance abuse treatment programs here include medication-assisted treatment, standard outpatient, and telemedicine services.
Rehab programs here are diverse and allow for customized services according to the needs of each patient.
Addiction treatment and support services include:
anger management services
counseling
crisis stabilization and prevention services
divorcing parent education
domestic violence intervention program
DUI evaluations and risk education
family education
individual and group counseling
life-skills development classes
mediation
medication assessments
medication monitoring
mental health and substance abuse assessments
psychiatric services
relationship counseling
residential apartment services
young adult community services
Location and contact information:
100 Jefferson St.
Oregon, Illinois 61061
(815) 732-3157
How To Find Alcohol And Drug Rehab Centers In Rockford
While opiate addictions and other addictions are prevalent in Illinois, there are many drug rehab programs in Rockford that offer medications, counseling, and other treatment options that can help.
Find addiction treatment near Rockford, IL:
Updated on December 2, 2022
This page does not provide medical advice.
See more
Article resources
Addiction Resource aims to provide only the most current, accurate information in regards to addiction and addiction treatment, which means we only reference the most credible sources available.
These include peer-reviewed journals, government entities and academic institutions, and leaders in addiction healthcare and advocacy. Learn more about how we safeguard our content by viewing our editorial policy.