LGBTQ+ refers to anyone who identifies as lesbian, gay, bisexual, transgender, or questioning.
Due to discrimination and other social and economic challenges, LGBTQ+ people face above-average rates of substance use disorders (SUD).
For this reason, drug rehab centers in Montana offer a number of addiction treatment services and programs that are beneficial to those who identify as LGBTQ+.
Some of these rehab programs and services include evidence-based therapy, gender-separate care, trauma-informed counseling programs, and more.
List Of LGBTQ+ Drug Rehab Centers In Montana
The drug and alcohol rehab centers in the list below were selected for their provision of LGBT-friendly rehab services, accreditations, certifications, and other marks of quality care.
1. Fort Harrison VA Medical Center, Fort Harrison, Montana
This drug and alcohol rehab facility promotes sobriety and rehab programs for veterans, homeless individuals, and members of the LGBTQ+ community.
Treatment options available at this addiction treatment center include:
inpatient and outpatient treatment
detoxification services
therapy for individuals, groups, and families
telehealth services
drug addiction education and counseling programs
residential treatment
This facility is licensed by the U.S Department of Veterans Affairs (VA) and offers treatment services in an LGBT-inclusive setting.
Location and contact information:
3687 Veterans Dr.
Fort Harrison, MT 59636
(406) 442-6410
Get Started On The Road To Recovery.
Get Confidential Help 24/7. Call Today!
(844) 616-3400
2. Rocky Mountain Treatment Center, Great Falls, Montana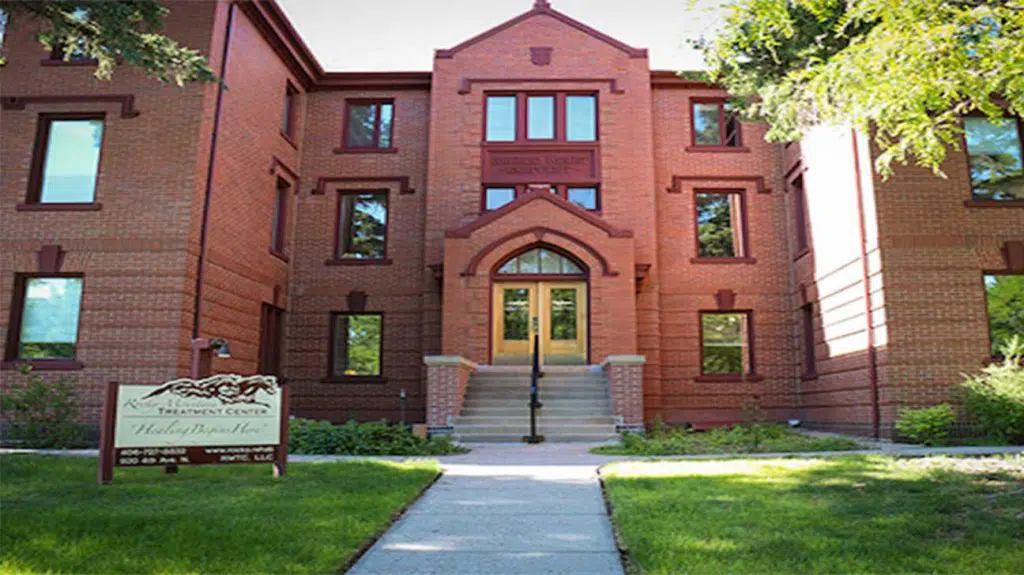 A full continuum of healthcare services is available to LGBTQ people and all other demographics at this rehab center in Great Falls, Montana.
Treatment programs and services at this recovery center include:
drug and alcohol detox
equine therapy
aftercare
spiritual programs
peer support
individual case management
medication management
recreational therapy
holistic therapy
inpatient programs
Notable qualities of this rehab center include:
affiliation with the National Association for Alcoholism and Drug Abuse Counselors (NAADAC)
LegitScript certification
a 4.6-star Google rating
Location and contact information:
920 4th Ave. N.
Great Falls, MT 59401
(406) 727-8832
Prevalence Of Substance Use In The LGBTQ+ Community
Studies from 2015 and 2018 performed by the National Institute of Health (NIH) found that gay men were more likely to use hard drugs and smoke marijuana than heterosexual men.
Additionally, the use of party drugs among LGBTQ+ demographics is much higher than in their hetero counterparts.
This same study found that the majority of gay or bisexual men that used party drugs also had self-reported poly-club-drug substance addictions, meaning they used more than one substance.
Factors Contributing To Substance Use In The LGBTQ+ Community
There are a number of factors that contribute to the increasing prevalence of substance use disorders (SUD) among LGBT individuals.
Some of these risk factors are:
use of party drugs alongside other substances
intravenous device sharing, contributing to drug use and HIV-positive cases
discrimination from family or friends, as well as in the workplace
post-traumatic stress disorder (PTSD)
genetic predispositions to drug use, or past histories of addiction
lack of access to affordable and or comprehensive healthcare services
negative advertising from clubs or other party venues
homophobia and anti-LGBT discrimination in society
What To Look For In A LGBTQ+ Drug Rehab Facility In Montana
LGBTQ+ persons may want to keep an eye out for holistic or alternative therapeutic and counseling services at rehab centers in Montana.
Substance abuse treatment that may address the unique needs of LGBT persons are:
inpatient treatment programs
group therapy programs
partial hospitalization programs
intensive outpatient programs (IOP)
drug and alcohol treatment services in gender-separate settings
aftercare programs
gender identity-informed therapy
behavioral health services
cognitive behavioral therapy (CBT)
treatment for mental health issues
drug abuse and addiction education programs
dual diagnosis treatment for co-occurring disorders
sexual orientation and sexual identity affirmation counseling for transgender individuals
individualized treatment plans
individual and family therapy
FAQs For LGBTQ+ Rehab Centers In Montana
Find answers to some of the most commonly asked questions in the list below concerning LGBTQ+ drug rehab centers in the state of Montana.
What If I Can't Afford A LGBTQ+ Rehab Program?
There are many avenues by which to acquire funding to cover the cost of treatment services.
Many rehab centers accept private and public health insurance, state health insurance — such as Montana Medicaid and Medicare — and federal funding in the form of SAMHSA grants.
Other addiction treatment centers also provide financial aid programs, many of which include sliding-scale fee payment systems.
Do LGBT-Friendly Rehab Centers In Montana Offer Gender-Specific Care?
Some LGBTQ+ rehab centers in Montana provide inpatient and residential treatment in gender-exclusive settings.
Check with the admissions office at your selected rehab center to verify the existence of such a program prior to enrolling.
What Therapy Types Are Offered In LGBTQ+ Rehab Centers?
There are a number of evidence-based, holistic, faith-based, and alternative therapy programs provided at LGBT-friendly rehab centers.
Types of therapy that may be provided at Montana LGBTQ+ rehab centers are:
trauma-informed therapy
individual, group, and family therapy
one-on-one counseling
motivational interviewing
Find A LGBTQ Rehab Center Today
If you are searching for drug or alcohol addiction services in a LGBT-friendly setting in Montana, give our helpline a call today to learn about treatment options near you.
Published on August 9, 2022
This page does not provide medical advice.
See more
Article resources
Addiction Resource aims to provide only the most current, accurate information in regards to addiction and addiction treatment, which means we only reference the most credible sources available.
These include peer-reviewed journals, government entities and academic institutions, and leaders in addiction healthcare and advocacy. Learn more about how we safeguard our content by viewing our editorial policy.