Arizona dual diagnosis rehab centers focus on treating individuals who have co-occurring substance abuse and mental health disorders.
With this type of program, you can work with a counselor or therapist to create an individualized treatment plan that meets the recovery goals of both disorders.
Both conditions tend to exacerbate one another, so treating them together is essential for long-term recovery.
There are several dual diagnosis programs in Arizona to choose from, many of which offer varying levels of addiction treatment.
List Of Arizona Dual Diagnosis Treatment Programs
We want you to have the best tools available for your rehab center search. That's why we've chosen treatment facilities that have dual diagnosis programs backed by top credentials.
The rehab centers below feature:
accreditation
valued memberships
certifications
positive client testimonials
high Google ratings
evidence-based treatment
1. Desert Cove Recovery, Scottsdale, Arizona
Desert Cove Recovery offers inpatient and outpatient drug addiction treatment.
Clients with co-occurring disorders can get treatment here involving:
support groups
medications
individual therapy
cognitive behavioral therapy (CBT)
diagnosis education
social skills training
relapse prevention
Addiction and mental health treatment here is supported by:
a 4.1-star Google rating
LegitScript certification
National Association for Alcoholism and Drug Abuse Counselors (NAADAC) membership
Location and contact information:
6613 N Scottsdale Rd.
Suite 200
Scottsdale, AZ 85250
(833) 924-2146
Get Started On The Road To Recovery.
Get Confidential Help 24/7. Call Today!
(844) 616-3400
2. First Step Center, Scottsdale, Arizona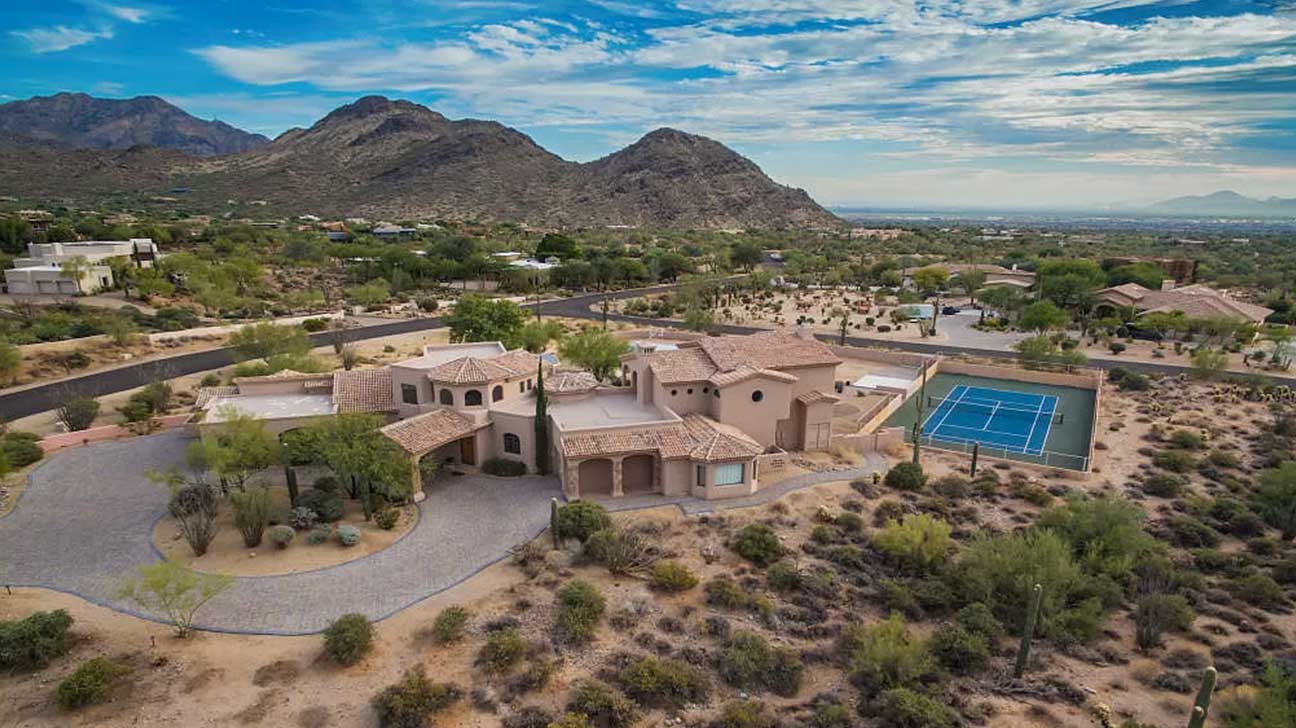 This is an outpatient and residential treatment center that specializes in dual diagnosis treatment, including those with depression and PTSD.
This mental illness and addiction recovery center has:
a 5-star Google rating
evidence-based treatment
Outpatient treatment includes an intensive outpatient program (IOP) and a partial hospitalization program (PHP).
Location and contact information:
10051 East Dynamite Blvd.
Suite G135
Scottsdale, AZ 85262
(866) 421-2491
3. The River Source, Multiple Locations
The River Source has locations in Gilbert and Arizona City. They offer dual diagnosis treatment for conditions such as ADHD, PTSD, anxiety disorders, depression, and schizophrenia.
Substance abuse treatment here is verified with:
Joint Commission accreditation
Psychology Today verification
a 4.6-star Google rating
LegitScript certification
National Association of Addiction Treatment Providers (NAATP) membership
Inpatient and outpatient treatment options are available at The River Source.
Location and contact information:
16286 S. Sunland Gin Rd.
Arizona City, AZ 85123
(866) 373-4640
4. Silver Sands Recovery, Prescott, Arizona
This is a substance use disorder treatment facility that offers dual diagnosis services for trauma resolution.
Those who have experienced trauma can get treatment for related mental health issues and addiction.
Silver Sands Recovery is:
LegitScript-certified
Joint Commission-accredited
Better Business Bureau (BBB)-accredited
Treatment for addiction and mental health conditions includes psychiatric evaluation, detox, extended care, and more.
Location and contact information:
3636 Crossings Dr.
Prescott, AZ 86305
( 844) 933-2525
5. Stonewall Institute, Phoenix, Arizona
This is a drug and alcohol abuse rehab center that specializes in treating addiction and co-occurring mental health conditions.
They offer outpatient programs, aftercare, and treatment for LGBTQI+ individuals.
Top qualities of this drug and alcohol addiction center include:
a 4.7-star Google rating
positive client testimonials
evidence-based treatment
Location and contact information:
4020 N. 20th St.
Suite 302
Phoenix, AZ 85016
(602) 560-7366
6. Viewpoint Dual Recovery Center, Prescott, Arizona
This rehab facility specializes in treating dual diagnosis clients. Co-occurring disorder treatment is available for mood disorders, personality disorders, anxiety and panic disorders, and more.
A few of the treatment modalities and services used here include:
equine therapy
somatic experience
music therapy
family therapy
nutrition, health, and wellness
grief counseling
meditation and spirituality
dialectical behavior therapy (DBT)
cognitive behavioral therapy (CBT)
vocational training
This drug rehab center boasts features such as:
LegitScript certification
Joint Commission accreditation
BBB accreditation
702 W. Hillside Ave.
Prescott, AZ 86301
(833) 474-0506
Location and contact information:
702 W. Hillside Ave.
Prescott, AZ 86301
(833) 474-0506
7. Vogue Recovery Center Phoenix, Phoenix, Arizona
Vogue Recovery Center has two locations in Phoenix, as well as locations in Nevada and California.
They have a dual diagnosis treatment center offering detoxification, inpatient treatment, psychotherapy, medication management, and support groups.
Trusted features of this mental health treatment program include:
LegitScript certification
Psychology Today verification
Joint Commission accreditation
BBB accreditation
Location and contact information:
4122 N. 17th St.
Building A
Phoenix, AZ 85016
(855) 495-1791
How To Select A Dual Diagnosis Program In Arizona
If you're searching for a rehab center for yourself or a loved one with a dual diagnosis, you can use the criteria below to narrow down your search.
Things to look for in a dual diagnosis program:
level of care: Verify that the program offers the level of care you need for a dual diagnosis, as some facilities only offer substance abuse treatment.
specialized dual diagnosis treatment: Choose a facility that's a licensed dual diagnosis treatment center or offers specialized treatment for co-occurring disorders.
insurance coverage: Check to see whether the rehab center accepts your health insurance provider for dual diagnosis treatment.
behavioral therapy: Select a program that uses at least one type of behavioral therapy, such as DBT or CBT.
other features: Look for any other features you need in a treatment program, such as spiritual counseling, meditation, or other holistic treatment services.
Arizona Dual Diagnosis Treatment FAQs
We've answered several commonly asked questions regarding Arizona dual diagnosis rehab centers.
❓ What Are The Benefits Of Dual Diagnosis Rehab Programs?
✔️ You can get simultaneous treatment for mental health conditions and substance abuse, addressing the underlying causes and treatment methods for both disorders.
❓ What Is The Difference Between A Dual Diagnosis And Traditional Treatment Center?
✔️ A dual diagnosis rehab center in Arizona provides treatment services for mental health and addiction.
An addiction treatment center in Arizona provides treatment primarily for addiction.
❓ What Are The Most Common Types Of Dual Diagnosis Treated In Arizona?
✔️ Some of the most commonly diagnosed and treated co-occurring mental health conditions are depression, anxiety, bipolar disorder, PTSD, ADHD, and schizophrenia.
Find A Dual Diagnosis Rehab Center In Arizona
Dual diagnosis treatment is available at a number of rehab facilities in the state of Arizona.
Reach out to our helpline today for a free referral regarding dual diagnosis treatment for yourself or someone you love.
Published on October 25, 2021
This page does not provide medical advice.
See more
Article resources
Addiction Resource aims to provide only the most current, accurate information in regards to addiction and addiction treatment, which means we only reference the most credible sources available.
These include peer-reviewed journals, government entities and academic institutions, and leaders in addiction healthcare and advocacy. Learn more about how we safeguard our content by viewing our editorial policy.