Luxury rehab centers in New York play a role in offering people a comfortable place to detox and go through addiction treatment.
People who want a higher degree of privacy and relaxation while they recover can find it within luxury rehab programs.
List Of Luxury Rehab Facilities In New York
Below is a list of luxury drug rehab centers in New York.
These facilities have been vetted for quality and include such features as accreditations, high ratings on Google, certifications, and others.
1. Ascendant Detox, New York City, New York
Ascendant Detox provides detox with 24-hour medical supervision in a comfortable setting with privacy and chef-prepared meals. They also offer outpatient treatment once detox is complete.
Located in Manhattan, Ascendant Detox incorporates holistic healing into medication-assisted treatment (MAT).
They are accredited by the Joint Commission and have a 4.2-star rating on Google.
Location and contact information:
113 E. 60 St.
New York City, NY 10022
(866) 219-7993
Get Started On The Road To Recovery.
Get Confidential Help 24/7. Call Today!
(844) 616-3400
2. Long Island Center for Recovery, Hampton Bays, New York
With a 3.8-star rating on Google and accreditation from the Joint Commission, the Long Island Center for Recovery offers medical detox and inpatient treatment for substance use disorders and gambling addiction.
In-house chefs prepare meals in this serene setting where men and women are housed in separate wings while they undergo substance abuse treatment.
In addition to individual and group evidence-based therapy, the Long Island Center offers:
meditation
yoga
Reiki
sound therapy
equine therapy
Location and contact information:
320 W Montauk Hwy.
Hampton Bays, NY 11946
(631) 728-3100
3. Monte Nido In Western New York, Victor, New York
This treatment facility in Rochester, New York is part of a national network that treats eating disorders, dual diagnoses, or co-occurring disorders involving substance abuse and trauma.
They have around-the-clock psychiatric care and home-cooked meals as a part of inpatient treatment.
They are accredited by the Joint Commission, and their addiction treatment programs take an evidence-based treatment approach including such models as cognitive behavioral therapy.
Location and contact information:
6608 Boughton Hill Rd.
Victor, NY 14564
(888) 228-1253
4. The Dunes of East Hampton, Southampton, New York
The Dunes offer evidence-based addiction treatment and a holistic approach that includes yoga, meditation, and equine therapy on a secluded estate in the Hamptons.
They are LegitScript verified and feature many client testimonials.
This treatment center offers inpatient treatment, intensive outpatient treatment, and experiential group therapy including psychodrama and group outings like hiking.
Location and contact information:
15 Lohan Ct.
Southampton, NY 11968
(877) 760-6607
5. The Saint Jude Executive Retreat, Amsterdam, New York
The Saint Jude Executive Retreat is a drug and alcohol rehab facility in Amsterdam, New York, close to the Adirondack Mountains.
They offer treatment for alcohol addiction and drug addiction through the Freedom model, which offers disease-based or 12-step-based treatment.
In this luxury setting, all therapy is private, which means that Saint Jude keeps no record of your individualized treatment plan.
The facility offers chef-prepared meals that fit your individual needs, massage therapy, a sauna, and trips into the mountains.
It is rated 4.2 stars on Google and boasts client testimonies of the effectiveness of their treatment.
Location and contact information:
37 Prospect St.
Amsterdam, NY 12010
(888) 424-2626
6. Urban Recovery, Brooklyn, New York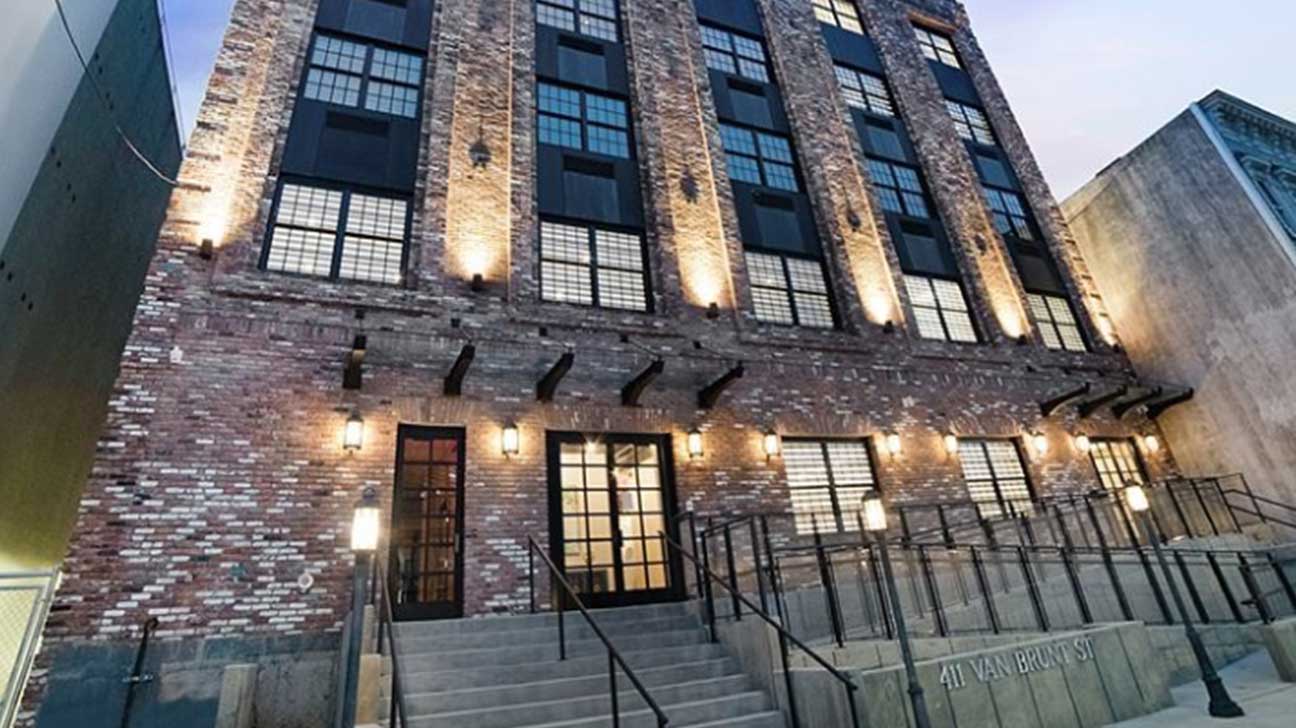 Providing addiction treatment in Brooklyn, New York, Urban Recovery offers privacy in a free-standing, five-story building. Here you can find detoxification, inpatient rehab, and alternative approaches like yoga.
Pilates instructors are available for you, as well as an in-house chef.
They also have professionals in wellness to guide you in spirituality and art as you recover from alcohol addiction, opioid addiction, and other forms of drug use.
They are accredited by CARF and have a 4.5-star rating on Google.
Location and contact information:
411 Van Brunt St.
Brooklyn, NY 11231
(646) 960-6656
7. Wellbridge, Calverton, New York
This luxury addiction treatment center is located on 96 acres, giving it a secluded feeling.
They incorporate yoga and holistic healing into the recovery process with:
medication-assisted treatment
medical detox
family therapy
evidence-based treatment
A dietician plans your meals, and you have access to individualized treatment, a gym, and activities of creative expression including music and pottery here.
They are LegitScript certified and accredited through the Joint Commission.
Location and contact information:
525 Jan Wy.
Calverton, NY 11933
(631) 840-0762
What Treatment Services Are Offered In Luxury Drug Rehab Programs?
Luxury rehab centers in New York offer many services that will seem similar to those offered at other rehab centers, as well as many additional, high-end recovery services.
According to the New York State Office of Alcoholism and Substance Abuse Services, almost 2 million people (12 years or older) in the state have a substance use disorder. That's about 12% of the state's population.
This makes the role of luxury rehabs important in offering treatment to suit specific needs.
Luxury treatment for chemical dependency can include:
Holistic treatments: this means whole-body care, such as a treatment program that addresses your mental, physical, and spiritual wellness.
Alternative treatments: These are usually offered in addition to evidence-based care, such as yoga therapy, massage therapy, tai chi, acupuncture, meditation, and more.
High-end amenities: These differ by the facility, but may include saunas, massage, a wellness approach, in-house chefs, pools, and others.
New York Luxury Rehab FAQs
If you still have questions about luxury rehab centers, check out answers to frequently asked questions below.
Can I Continue To Work While Attending A Luxury Rehab Program?
Yes, some luxury rehab centers have the setup to allow you to spend some time working. These may also be known as executive rehab centers.
Do Luxury Rehab Centers Offer Greater Privacy Than Other Drug Rehab Centers?
Yes, sometimes luxury treatment centers do offer greater privacy, due to their location or the fact that they sometimes cater to high-profile clients.
Do Luxury Rehab Centers Offer Discounts On Pricing?
Find Addiction Recovery Programs In New York
You can find luxurious residential treatment for addiction in New York state that offers individualized treatment and amenities that can make your stay more comfortable.
Call our helpline today to learn how to get started on a treatment program for you or your loved one.
Published on July 22, 2022
This page does not provide medical advice.
See more
Article resources
Addiction Resource aims to provide only the most current, accurate information in regards to addiction and addiction treatment, which means we only reference the most credible sources available.
These include peer-reviewed journals, government entities and academic institutions, and leaders in addiction healthcare and advocacy. Learn more about how we safeguard our content by viewing our editorial policy.