Connecticut rehab centers offer inpatient treatment and other recovery programs to help people overcome substance abuse and addiction.
Treatment programs offered by rehabilitation facilities in Connecticut can vary, but may include:
intensive outpatient programs (for those who cannot miss work while seeking addiction recovery)
gender-specific treatment for men and women
detoxification programs
sober living options and referrals
other addiction services and behavioral health services
All of the rehab centers on this page were chosen using careful selection criteria, such as accreditation level and positive reviews for the rehab facility.
This list has been ordered alphabetically.
Top Connecticut Rehab Centers
1. Connecticut Valley Hospital – Blue Hills, Hartford, Connecticut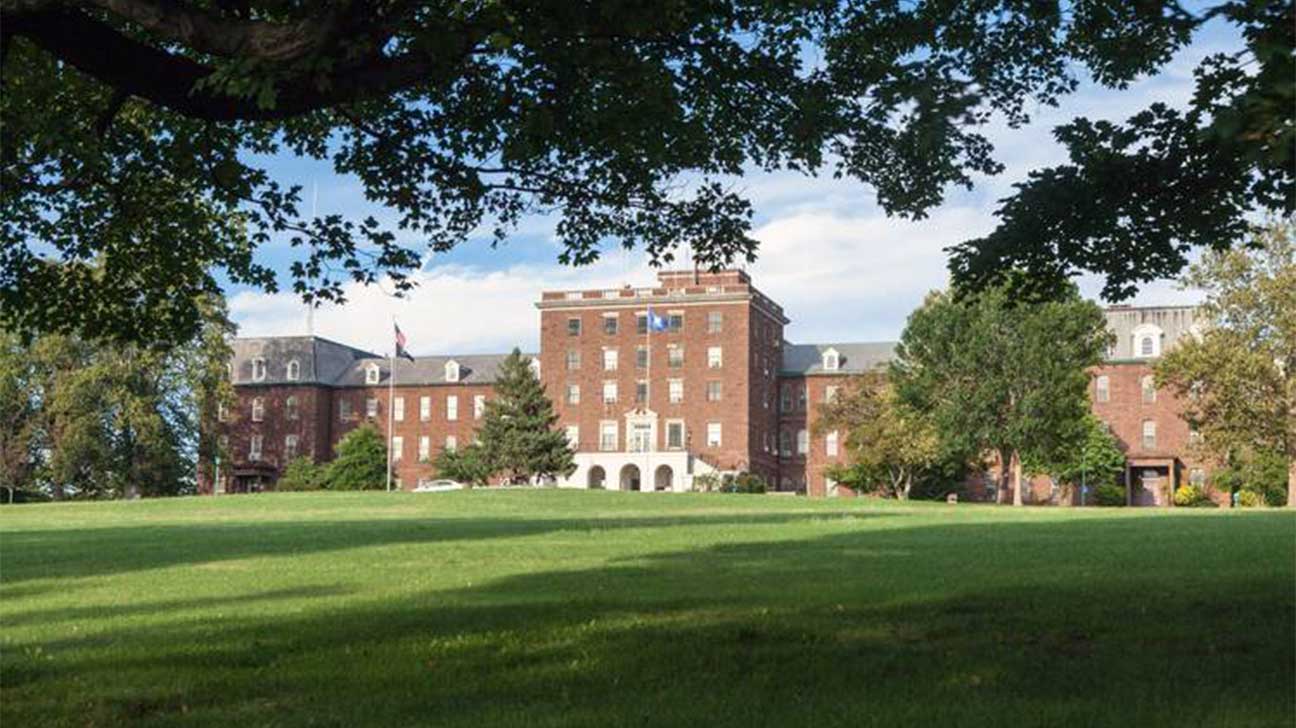 Blue Hills is an inpatient rehab center for men and women ages 18 and older who are struggling with an addiction to drugs or alcohol.
It is licensed and certified through the Connecticut State Department of Mental Health and Addiction Services.
This drug rehab facility provides individualized treatment plans for every patient.
Blue Hills provides addiction services to walk-ins and gives priority to those who do not have insurance or have public insurance.
Location and contact information:
Connecticut Valley Hospital – Blue Hills
500 Vine St.
Hartford, Connecticut, 06112
(860) 418-7000
Find the right treatment program in Connecticut today.
Call to be connected with a treatment specialist. 100% Free and Confidential.
(844) 616-3400
2. Farrell Treatment Center, New Britain, Connecticut
The Farrell Treatment Center in New Britain, Connecticut offers men a 28-day intensive residential treatment program.
This addiction treatment center is licensed and certified by the State of Connecticut and boasts testimonials from clients in addiction recovery.
Inpatient treatment is monitored by clinical staff and includes:
a short-term inpatient program
individual and group counseling
family participation
The Farrell Treatment Center also offers an intensive outpatient program for both men and women.
Location and contact information:
Farrell Treatment Center
586 Main St
New Britain, Connecticut 06051
(860) 225-4641
3. High Watch Recovery Center, Kent, Connecticut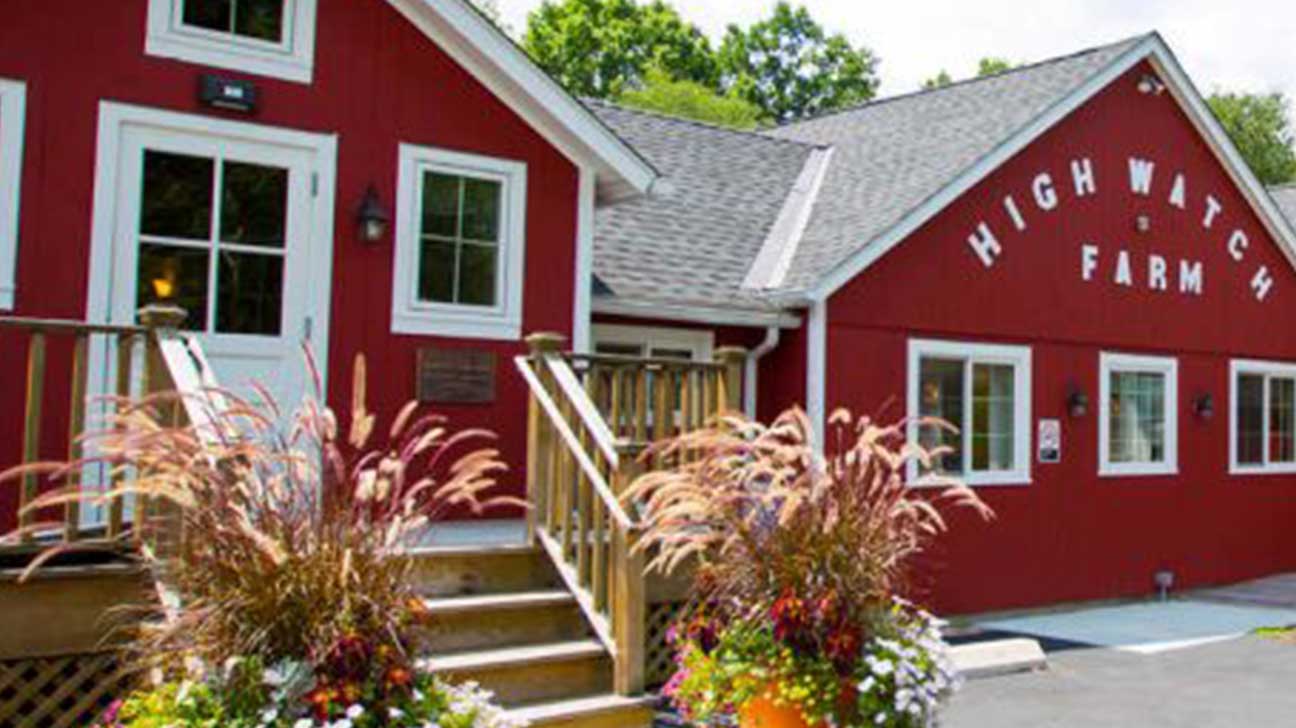 High Watch Recovery Center, located in Kent, Connecticut offers custom addiction treatment for each individual.
High Watch Recovery Center is:
accredited by the Joint Commission
Legit Script-certified
a member of the National Association of Addiction Treatment Providers (NAATP)
certified by the Substance Abuse and Mental Health Services Administration (SAMHSA)
rated 4.5 stars on Google by former patients and their families
The inpatient rehab program at this treatment facility provides:
three nutritious meals a day
a structured daily schedule that gives time for healing and reflection
a customized treatment plan
an assigned therapist for individual and group therapy each week
biological intervention to repair damages caused by substance use
12-Step programs
Clinicians are also able to diagnose and treat co-occurring mental health issues that can make it difficult to overcome a drug or alcohol addiction.
Location and contact information:
High Watch Recovery Center
62 Carter Road
Kent, Connecticut 06757
(860) 927-3772
4. MCCA – Trinity Glen, Sharon and Kent, Connecticut
MCCA Trinity Glen offers long-term residential programs for men and women seeking to beat their addiction to drugs or alcohol.
Treatment services offered at this facility include:
CARF-accredited
gender-separate
certified by the State of Connecticut with the COVID-19 prevention Badge of Safety
Trinity Glen's treatment program for men is located in Sharon, Connecticut, while its recovery program for women is located in Kent.
While in treatment, men will have:
between 20 and 30 hours of work therapy to develop a sense of responsibility and enhance work skills
individual and group counseling
recreation therapy
weekly community meetings
continuing care planning
optional nightly AA meetings
The goal of both facilities is to encourage a healthy life free from drug and alcohol abuse long after treatment has ended.
Location and contact information:
MCCA – Trinity Glen
38 Old Ridgebury Rd
Danbury, Connecticut 06810
(877) 874-6222
5. Mountainside Treatment Center, Canaan, Connecticut
Mountainside Treatment Center is an inpatient treatment facility that takes a holistic approach to healing drug and alcohol addiction in men and women.
This rehab center:
is dually accredited by the Joint Commission and CARF International
holds a Legit Script certification
is certified by the American Society of Addiction Medicine (ASAM)
As part of inpatient treatment, patients are provided with:
individualized treatment plans
innovative treatment options
addiction education
routes to self-discovery
support systems
relapse prevention education and techniques
aftercare planning
Location and contact information:
Mountainside Treatment Center
187 S Canaan Road
Canaan, Connecticut 06018
(860) 824-1397
6. Newport Academy, Bethlehem, Connecticut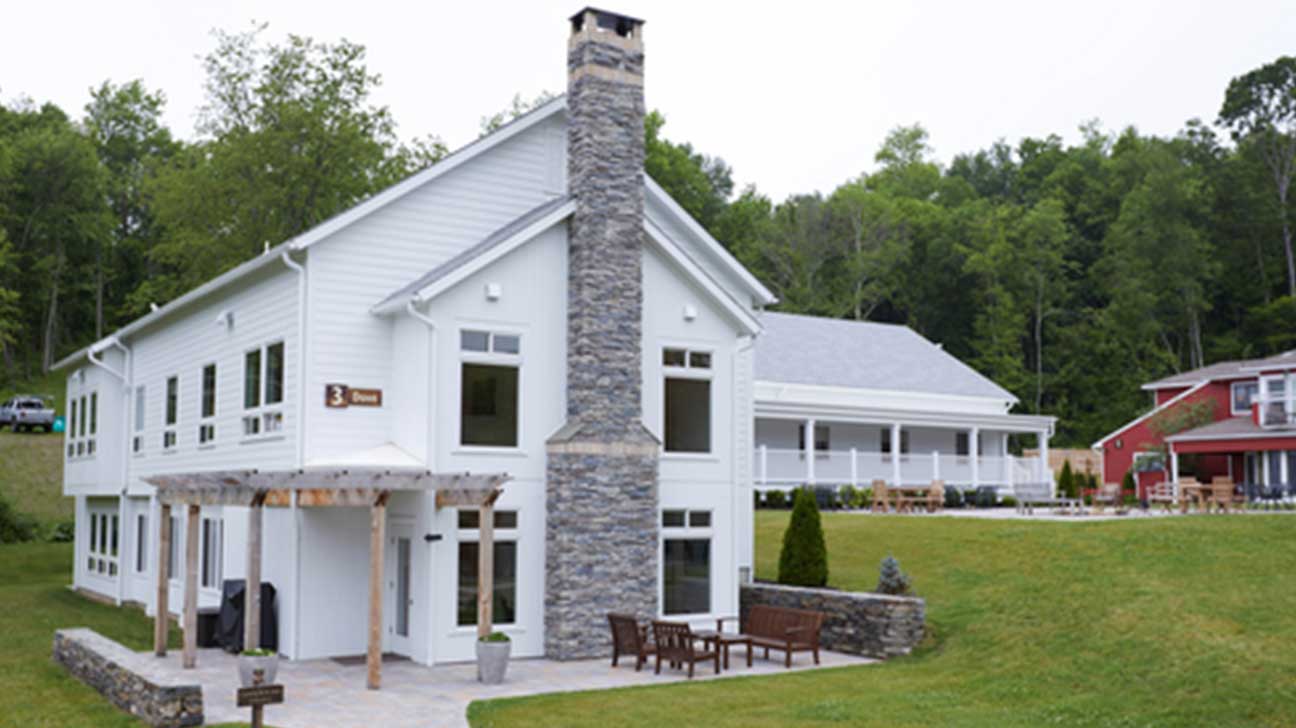 Newport Academy in Bethlehem, Connecticut offers addiction treatment for all those in need.
Newport Academy certifications and accreditations include:
Joint Commission-accredited
certified through the National Alliance on Mental Illness (NAMI) and several other addiction treatment organizations
This residential treatment facility has gender-separate drug rehab programs for teens with an alcohol or drug addiction.
Each resident will participate in a minimum of 30 hours per week of clinical and experiential therapy as well as another 20 hours per week of academic study and tutoring.
To assist teens in making their way through the recovery process, each resident is assigned an eight-person team made up of the following professionals:
psychiatrist
individual therapist
family therapist
medical doctor
registered nurse
registered dietician
recovery counselor
the clinical director, who oversees the treatment team
Newport Academy is dedicated to helping teens overcome addiction and setting them up for a successful and drug free life.
Location and contact information:
Newport Academy
64 Double Hill Rd
Bethlehem, Connecticut 06751
(866) 932-1763
7. Recovery Network of Programs – Horizons, Bridgeport, Connecticut
Horizons is a short-term, CARF-accredited residential treatment facility for men and women struggling with alcohol or drug addiction.
Patients who have entered addiction recovery with help from Horizons have given the rehabilitation facility a 4.3 star Google rating.
Treatment in this drug rehab program is built on evidence-based treatment modalities, such as:
motivational interviewing
cognitive behavioral therapy
medication-assisted services for opiate dependency
individual therapy
group therapy
family therapy
case management
12-step programs
Location and contact information:
Recovery Network of Programs – Horizons
2 Trap Falls Rd
Shelton, Connecticut 06484
(203) 929-1954
8. Rushford Middletown, Middletown, Connecticut
Rushford Middletown offers inpatient drug rehab and outpatient services that are accredited by the Joint Commission.
Inpatient treatment here is available to adults and young adults, but teen treatment is available through the rehab facility's sister location.
This alcohol and drug treatment facility provides medically supervised detox programs and mental health services to treat co-occurring disorders.
Location and contact information:
Rushford Middletown
883 Paddock Ave
Meriden, Connecticut 06450
(877) 577-3233
9. Silver Hill Hospital, New Canaan, Connecticut
Silver Hill Hospital offers three levels of care for drug and alcohol treatment that is accredited by the Joint Commission.
Treatment services offered include:
inpatient treatment: gives patients a chance to recover from substance abuse in a safe and supportive environment
sober living program: allows individuals to continue receiving highly structured care while living independently
outpatient treatment program: for individuals who are able to continue living at home while receiving treatment
Location and contact information:
Silver Hill Hospital
208 Valley Rd
New Canaan, Connecticut
(866) 542-4455
10. Turnbridge, New Haven, Connecticut
Turnbridge in New Haven, Connecticut an addiction center that offers gender-separate drug rehab programs for young men and women.
This rehab center is CARF-accredited and a member of the NAATP.
Turnbridge's treatment center for women is designed to help women beat their addiction while also encouraging them to become their best selves.
This rehab facility offers a full continuum of care, from inpatient treatment to outpatient treatment and sober living.
Location and contact information:
Turnbridge
189 Orange St
New Haven, Connecticut 06510
(877) 581-1793
Connecticut Rehab Center FAQs
The following are answers to some of the most commonly asked questions regarding addiction treatment in Connecticut.
❓ Does Connecticut Have Free Rehab Centers?
✔️ Yes, there are free rehab centers and low-cost treatment centers in Connecticut.
Because these rehab facilities are free of charge, there may be long waitlists to get into a rehab program, however.
❓ What Does Drug Rehab Cost In Connecticut?
✔️ The cost of your alcohol or drug treatment program will depend on the type of program (i.e. inpatient or outpatient), your insurance, and other factors.
Having health insurance can greatly reduce the out-of-pocket costs of an inpatient drug rehab program.
If you're concerned about paying for addiction treatment, other payment options may be available, like scholarships, grants, and sliding scale fees.
❓ Are Connecticut Rehab Centers Open During The COVID-19 Pandemic?
✔️ Some businesses, including addiction treatment centers, have experienced shutdowns due to coronavirus restrictions.
Most alcohol and drug rehab centers in Connecticut remain open during COVID-19 or have reopened with enhanced safety protocols to protect staff and patients.
❓ Can I Use Medicaid To Pay For Rehab In Connecticut?
✔️ Most rehab centers that accept the Connecticut Medical Assistance Program are privately funded through the state or federal government.
Private rehab centers often do not accept Medicaid. For more information, view our list of drug rehab centers in Connecticut that accept Medicaid.
❓ Do Inpatient Rehab Centers In Connecticut Also Offer Outpatient Programs?
✔️ Many of the recovery centers in Connecticut provide a range of treatment programs to meet the needs of all who are in recovery. This includes both inpatient and outpatient treatment options.
Learn more by viewing our list of outpatient drug rehab centers in Connecticut now.
Find A Connecticut Rehab Center Near You
For the best chance at a lasting recovery, residential treatment is the most effective option for addicted individuals. The most reputable rehab centers will offer inpatient treatment for addiction in an accredited rehab facility.
Not all rehab centers on this list are accredited or offer inpatient treatment, however. If you or a loved one are in need of a residential rehab program, reach out to our addiction treatment specialists today for more information.
Select a city below to find a Connecticut rehab center near you:
Updated on March 3, 2021
This page does not provide medical advice.
See more
Article resources
Addiction Resource aims to provide only the most current, accurate information in regards to addiction and addiction treatment, which means we only reference the most credible sources available.
These include peer-reviewed journals, government entities and academic institutions, and leaders in addiction healthcare and advocacy. Learn more about how we safeguard our content by viewing our editorial policy.