North Carolina is home to many rehab centers that treat drug and alcohol addiction.
Many of these facilities provide residential treatment with specialized programs using evidence-based treatment methods.
List Of Rehab Centers In North Carolina
To find a rehab program that suits you or a loved one, consult the following list of the top eight rehab centers in North Carolina.
These addiction treatment centers were chosen based on the following:
accreditation status*
licensing and partnerships
staff qualifications
inpatient treatment type offerings
positive social media treatment program reviews
1. Anuvia Prevention & Recovery Center, Charlotte, North Carolina
Anuvia is a CARF-accredited inpatient rehab center in Charlotte, NC with numerous testimonials from clients in long-term recovery.
Inpatient treatment programs here may begin with medical detox and access to 24-hour medical care. Dual diagnosis treatment is also available.
This residential treatment program includes:
group and individual therapy
alcohol and drug dependency education
family therapy
aftercare planning
Location and contact information:
100 Billingsley Rd.
Charlotte, NC 28211
(704) 376-7447
Find the right treatment program in North Carolina today.
Call to be connected with a treatment specialist. 100% Free and Confidential.
(844) 616-3400
2. Black Mountain Substance Abuse Treatment Center For Women, Black Mountain, North Carolina
Black Mountain Substance Abuse Treatment Center for Women helps female probationers and parolees through residential rehab programs.
Court-ordered rehab programs are licensed through the state of North Carolina.
These programs provide addiction treatment as part of a person's sentence.
This facility's primary goal is to help inmates in prison or jail due to drug-related charges reintegrate into their communities.
The program is typically 90 days in length and helps individuals:
develop healthy social living skills
discover self-help recovery groups
learn practical coping skills
Location and contact information:
1449 N Fork Rd.
Black Mountain, NC 28711
(828) 669-4174
3. Crest View Recovery Center, Asheville, North Carolina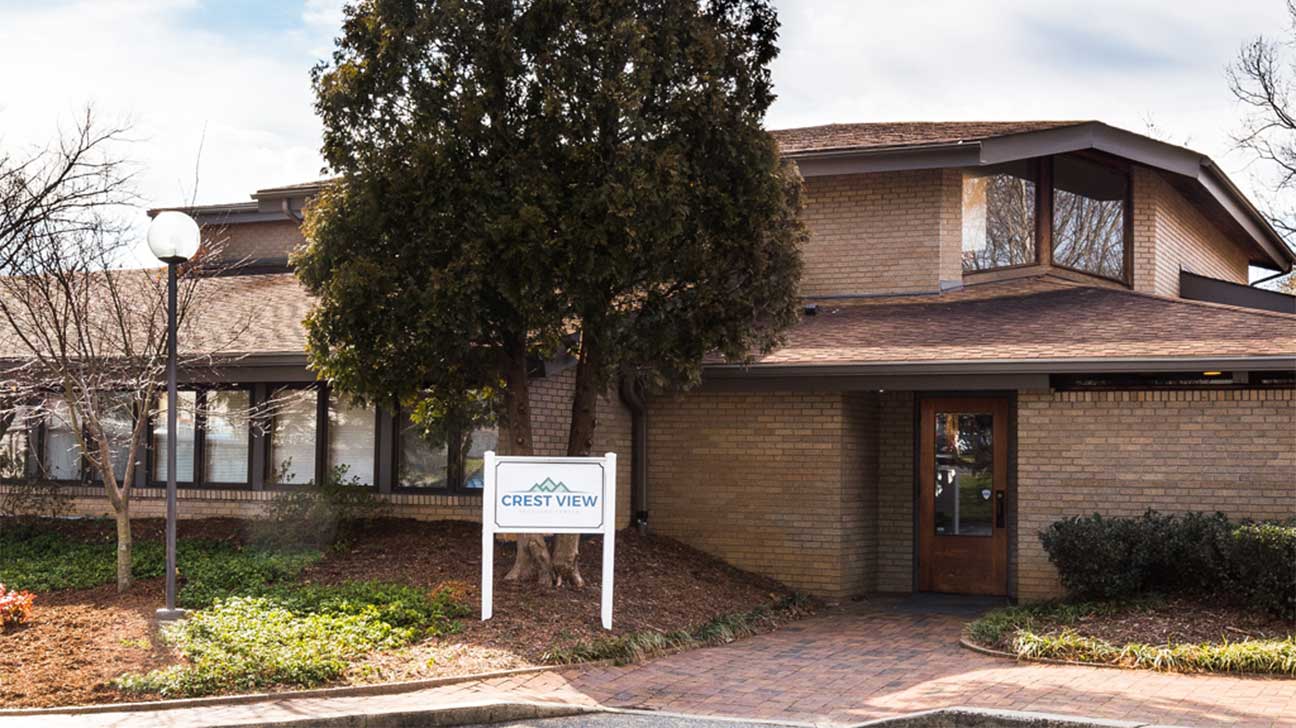 Crest View Recovery Center is a rehab center in Asheville, NC.
Features of this treatment facility include:
being awarded the gold seal of approval from the Joint Commission
a 4.6-star rating on Google
LegitScript certification
membership in the National Association of Addiction Treatment Providers (NAATP)
Treatment options here include:
inpatient treatment
intensive outpatient programs (IOP)
relapse prevention programs
mental health treatment
co-occurring disorder treatment
alumni programs
Location and contact information:
90 Ashland Ave.
Asheville, NC 28801
(866) 350-5622
4. Fellowship Hall, Greensboro, North Carolina
Fellowship Hall offers residential rehab, outpatient programs, and family treatment programs for alcohol or drug addiction.
Here, gender-separate residential treatment in Greensboro, NC is typically three to six weeks in length.
This program includes recovery services such as:
group therapy
grief therapy
individual therapy
biofeedback
psychoeducational courses
recreational therapy
yoga
Trusted features of this addiction treatment center include:
membership in the NAATP
membership in NAADAC, the Association for Addiction Professionals
Location and contact information:
5140 Dunstan Rd.
Greensboro, NC 27405
(800) 659-3381
5. Pavillon, Mill Spring, North Carolina
With more than two decades of experience in treating substance abuse and mental health, Pavillon offers evidence-based addiction treatment.
Addiction recovery programs here are backed by:
LegitScript certification
NAATP membership
4.4 stars on Google
Specialized rehab programs available here include:
women's gender-specific program
men's gender-specific program
young adults program
professionals program
family program
relapse prevention
Evidence-based treatments may include yoga, exercise, individual and group therapy, and more.
Location and contact information:
241 Pavillon Pl.
Mill Spring, NC 28756
(828) 694-2300
6. Recovery Treatment Centers Of Alamance (RTSA), Burlington, North Carolina
This is an addiction treatment center in Burlington, North Carolina.
Substance abuse treatment programs offered here treat women and include:
residential/inpatient programs
group homes for those with mental health disorders
detoxification and crisis stabilization
The alcohol and drug treatment center is supported by CARF accreditation.
Location and contact information:
136 Hall Ave.
Burlington, NC 27217
(336) 227-7417
7. Red Oak Recovery, Leicester, North Carolina
Red Oak Recovery is known for its gender-specific inpatient rehab programs and co-occurring disorder treatment for adults and young adults.
The treatment center offers the following trusted features:
CARF accreditation
LegitScript certification
membership in the NAATP and NAADAC
membership in the National Association of Therapeutic Schools and Programs (NATSAP)
Here, substance use treatment is trauma-informed and offers a 12-step approach.
Addiction and mental wellness services here include:
drug and alcohol detox
individual, family, and group counseling
acupuncture
adventure therapy
nutritional guidance
fitness
recreational therapy
aftercare services
Location and contact information:
631 Willow Creek Rd.
Leicester, NC 28748
(866) 457-7590
8. Wilmington Treatment Center, Wilmington, North Carolina
This rehab facility in Wilmington, NC provides a range of care to meet the needs of each person who enters treatment.
Addiction treatment programs include:
medically assisted alcohol and drug detox
inpatient treatment
outpatient treatment
intensive outpatient programs (IOP)
partial hospitalization programs (PHP)
This rehab facility is backed by Joint Commission accreditation and affiliation with the American Society of Addiction Medicine (ASAM).
Location and contact information:
2520 Troy Dr.
Wilmington, NC 28401
(910) 758-2023
What To Look For In An Ideal Drug Rehab Program
It can be challenging to choose an addiction treatment program, particularly if you have already completed a rehab program and feel it did not work for you.
Addiction affects people differently, and no two persons will heal in the same manner.
Here are some qualities to consider when researching addiction treatment options in North Carolina:
Is the drug rehab center accredited? This means that a third-party source has reviewed the program and facility and decided to give it their stamp of approval.
Are the staff members at the treatment center licensed and qualified to do their job?
Would you be willing to travel to attend treatment at an out-of-state treatment facility?
How much will treatment cost? Does your healthcare insurance benefits cover any of the cost?
North Carolina Drug Rehab FAQ
Learn how to find lasting recovery at a rehab center in North Carolina bu reviewing the frequently asked questions below.
Do North Carolina Rehab Centers Offer Outpatient Programs?
Can I Find Gender-Specific Treatment In North Carolina?
Various demographics can find treatment in North Carolina.
Specialized treatment programs to choose from include:
How Much Does Addiction Treatment Cost In North Carolina?
The true cost of addiction treatment services depends on several factors.
Things that may affect treatment cost can include:
health insurance coverage
type of treatment facility (private, non-profit, state-funded, etc.)
level of substance abuse treatment needed (i.e., medical detoxification typically costs more)
An accredited private treatment facility may cost anywhere from $500-$1500/day for inpatient/residential treatment without any insurance coverage.
Do North Carolina Rehab Centers Accept Medicaid?
Are There Any Free Drug Rehab Centers In North Carolina?
Are There Dual Diagnosis Programs In North Carolina?
Yes. Several North Carolina rehab centers offer dual diagnosis treatment to those who are struggling with co-occurring substance abuse and mental health disorders.
Learn how you can find dual diagnosis treatment in North Carolina
Find Inpatient Rehab Centers In North Carolina
If you or a loved one need treatment for substance abuse, reach out to one of our addiction treatment specialists for a list of rehab centers that may work for you.
*Disclaimer: Due to the lack of rehab centers with accreditation status in North Carolina, not all of the above-listed rehab centers have an accreditation status.
Select a city below to find a North Carolina rehab center near you:
Select a state below to find additional treatment options near North Carolina:
Updated on January 28, 2022
This page does not provide medical advice.
See more
Article resources
Addiction Resource aims to provide only the most current, accurate information in regards to addiction and addiction treatment, which means we only reference the most credible sources available.
These include peer-reviewed journals, government entities and academic institutions, and leaders in addiction healthcare and advocacy. Learn more about how we safeguard our content by viewing our editorial policy.