The state of Alaska offers many inpatient treatment options to help people overcome addiction to substances like illicit drugs and alcohol.
Drug rehab facilities in Alaska have treatment options for:
adolescents
pregnant women
mothers with children
American Indians and Alaska Natives
men
Other types of treatment available at Alaska rehab facilities include detox programs, medication-assisted treatment (MAT), and outpatient services.
Top Alaska Rehab Centers
To find a rehab program that offers effective treatment plans, be sure to search for credible facilities backed by partnerships, licensing, and positive reviews.
Addiction treatment providers listed here were selected based on the following:
positive treatment program reviews
accreditation status**
types of substance abuse treatments offered
1. Akeela House Recovery Center, Anchorage, Alaska
The Akeela House Recovery Center in Anchorage, Alaska is a long-term residential treatment center. This drug rehab center has 48 beds and can house both men and women.
Akeela House is also equipped to handle co-occurring disorders since many residents have a dual diagnosis.
While at this rehabilitation facility, residents learn how to control their addiction and overcome it by identifying the triggers that lead to drug and alcohol use.
Supporting features of this substance abuse treatment facility include:
designation as a non-profit rehab center
licensing through the Alaska Division of Behavioral Health
state grant funding through the Alaska Department of Health & Social Services
Location and contact information:
360 West Benson
Suite 300
Anchorage, AK 99503
(907) 565-1200
Find the right treatment program in Alaska today.
Call to be connected with a treatment specialist. 100% Free and Confidential.
(844) 616-3400
2. Alaska Dream Center, Palmer, Alaska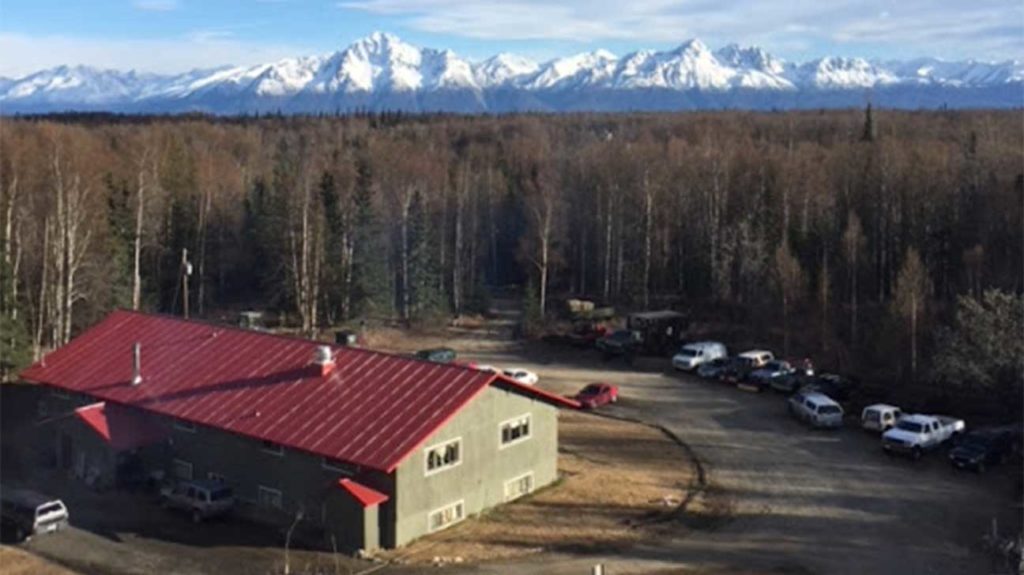 The Alaska Dream Center offers a faith-based rehab program in Palmer, AK, as well as other levels of care for substance abuse.
Therapies and treatment methods include:
prayers
daily devotion
art therapy
animal therapy
gardening
The religious rehab facility is supported by a 5-star Google rating.
Location and contact information:
8117 East New Hope St
Palmer, AK 99645
(907) 746-3736
3. Chris Kyle Patriots Hospital, Anchorage, Alaska
The Chris Kyle Patriots Hospital provides holistic inpatient treatment for military service members and veterans in need of drug or alcohol addiction treatment.
This facility takes those who:
have experienced trauma
need to go through the detoxification process
need rehabilitation for substance abuse
Top features of this rehab facility include:
Joint Commission accreditation
a 4.3-star rating on Google
supporter of the National Action Alliance for Suicide Prevention
Location and contact information:
1650 South Bragaw
Anchorage, AK 99508
(907) 258-7575
4. Graf Rheeneerhaanjii, Fairbanks, Alaska
The Graf Rheeneerhaanjii is a residential rehab facility in Fairbanks, AK for American Indian and Alaska Native adolescents ages 12 to 18. Inpatient treatment here typically lasts between 12 and 14 months.
This addiction treatment program is backed by a 5-star Google rating and support for the Fairbanks Native Association.
Treatment services at this drug and alcohol rehab facility include:
individual therapy
mental health therapy
anger management
group and family therapy
academic education with correspondence schools
12-step meetings
Location and contact information:
2550 Lawlor Rd
Fairbanks, AK 99709
(907) 455-4725
5. Rainforest Recovery Center, Juneau, Alaska
This residential treatment center in Juneau, AK provides inpatient treatment for substance abuse and co-occurring mental health disorders.
In addition to inpatient rehab programs, they provide:
outpatient therapy
medication-assisted treatment for withdrawal symptoms caused by opioids or alcohol abuse
referrals for aftercare/sober living
alcohol and drug use counseling
Drug and alcohol treatment here is supported by:
Joint Commission accreditation
evidence-based treatment
high Google ratings
Location and contact information:
3250 Hospital Dr.
Juneau, AK 99801
(907) 796-8690
6. Serenity House Treatment Center, Soldotna, Alaska
The Serenity House Treatment Center offers residential programs, intensive outpatient programs (IOP), and outpatient treatment for alcohol and drug abuse and dual diagnosis.
Rehabilitation here includes 12-step support groups, group therapy, behavioral therapy, and life skills training.
Trusted features of the rehab facility include Joint Commission accreditation and an award from Planetree for patient-centered care excellence.
Location and contact information:
250 Hospital Place
Soldotna, AK 99669
(907) 714-4404
7. Southeast Alaska Regional Health Consortium (SEARHC): Raven's Way, Sitka, Alaska
Raven's Way is a youth rehab program in Sitka, AK that offers residential care for substance use and mental health.
Substance abuse treatment here combines conventional rehabilitation programs, adventure-based therapy, and Native cultural activities.
Marks of quality care for this recovery program include:
licensing through the state of Alaska
affiliation with the National Association of Alcohol and Drug Abuse Counselors (NAADAC)
Location and contact information:
1200 Seward Ave
Sitka, AK 99835
(907) 966-8714
8. Women And Children's Center For Inner Healing, Fairbanks, Alaska
The Women and Children's Center for Inner Healing is a residential rehab center for women facing substance abuse who also have children.
This drug rehab facility has 12 beds for pregnant women and mothers with children up to the age of seven.
Alcohol and drug addiction treatment programs at this facility include:
individual psychotherapy
group and family therapy
mental health services
anger management
12-step programs
healthy parenting groups
infant and toddler programs
pre-school and school-age programs
This recovery center is backed by the Fairbanks Native Association and has received a 5-star rating on Google reviews.
Location and contact information:
3100 South Cushman St
Fairbanks, AK 9970
(907) 451-8164
How To Choose The Right Alaskan Treatment Center For You
As you search for the best rehab program for yourself or your loved one, remember to look for a rehab center that provides healthcare to fit your individual needs.
Ask whether the Alaskan addiction treatment center you are considering:
offers multiple levels of substance abuse treatment
offers payment plans, or payment assistance
accepts health insurance/Medicaid/medicare
has restrictions to payment plans due to COVID-19
follows an evidence-based or alternative approach to care
How To Pay For Your Rehab Program
The cost of your alcohol or drug treatment program will depend on the type of program (i.e., inpatient or outpatient), your insurance, and other factors.
Having health insurance can significantly reduce the out-of-pocket costs of an inpatient drug rehab program.
If you're concerned about paying for addiction treatment, other payment options may be available, like scholarships, grants, and sliding scale fees.
These resources can help you access affordable rehab treatment in Alaska:
Alaska Inpatient Drug Rehab FAQ
The following are answers to some of the most commonly asked questions regarding addiction treatment in Alaska.
Can You Find Outpatient Rehab Programs In Alaska?
Are Alaska Rehab Centers Open During The COVID-19 Pandemic?
Some businesses, including addiction treatment centers, have experienced shutdowns due to coronavirus restrictions.
Most alcohol and drug rehab centers in Alaska remain open due to them being deemed essential services.
Can I Use DenaliCare (Alaska Medicaid) To Pay For Rehab In Alaska?
Do Alaska Rehab Centers Provide Dual Diagnosis Treatment?
Do Rehab Centers In Alaska Offer Gender-Specific Treatment?
Find A Rehab Center In Alaska
Substance abuse treatment, like inpatient rehab programs, can help you or a loved one make lasting changes toward addiction recovery.
The most effective treatment for severe addictions is residential rehab programs, but this form of care may not work for everyone.
To learn more about your addiction treatment options in Alaska or to find a rehab center near you, talk to an addiction treatment specialist today.
**Disclaimer: Not all rehab centers listed in this article are accredited by a third-party accrediting organization. This is due to the lack of accredited treatment providers in the state of Alaska.
Select a city below to find a drug rehab center near you:
Or select a treatment type to find specialized care in Alaska:
Additional treatment options:
Updated on February 15, 2022
This page does not provide medical advice.
See more
Article resources
Addiction Resource aims to provide only the most current, accurate information in regards to addiction and addiction treatment, which means we only reference the most credible sources available.
These include peer-reviewed journals, government entities and academic institutions, and leaders in addiction healthcare and advocacy. Learn more about how we safeguard our content by viewing our editorial policy.