There are dozens of addiction treatment providers in New England, many of which provide a full continuum of care for substance use disorders.
In the list below, you'll find rehab facilities that provide services such as inpatient treatment, detoxification, and gender-specific services.
These recovery programs may involve group therapy, medication-assisted treatment (MAT), family therapy, and cognitive behavioral therapy.
List Of Top New England Rehab Centers
These drug and alcohol rehab centers were chosen based on the types of services offered and on the quality of their treatment methods.
Credibility is crucial, and the following 10 New England addiction treatment centers have certified and highly accredited staff.
Browse our alphabetized list to find treatment centers that are supported by:
accreditation
certifications
client testimonials
other important selection criteria
1. AdCare Rhode Island, North Kingstown, Rhode Island
AdCare is a substance abuse treatment program in North Kingstown, RI.
This rehab center has:
Joint Commission accreditation
a 4-star Google rating
a 90-day promise: clients who experience relapse can return for 30 days of continued addiction treatment at no charge
Inpatient treatment is short-term and offers skill-building, case management, and family involvement.
Location and contact information:
1950 Tower Hill Rd.
North Kingstown, Rhode Island 02852
(401) 294-6160
Find the right New England treatment program today.
Call to be connected with a treatment specialist. 100% Free and Confidential.
(844) 616-3400
2. Avenues Recovery Center, Concord, New Hampshire
Avenues Recovery Center offers a variety of highly-rated drug treatment services in Concord, NH for those struggling with addiction.
This rehab center boasts of:
dual accreditation from the Joint Commission and CARF
LegitScript certification
4.5 stars on Google
Alongside their residential inpatient program, this addiction treatment center provides a full continuum of care.
Rehab programs here include:
detox
partial hospitalization programs (PHP)
intensive outpatient programs (IOP)
sober living homes
Location and contact information:
81 Hall St.
Suite 2
Concord, New Hampshire 03301
(603) 505-8365
3. Bedrock Recovery, Canton, Massachusetts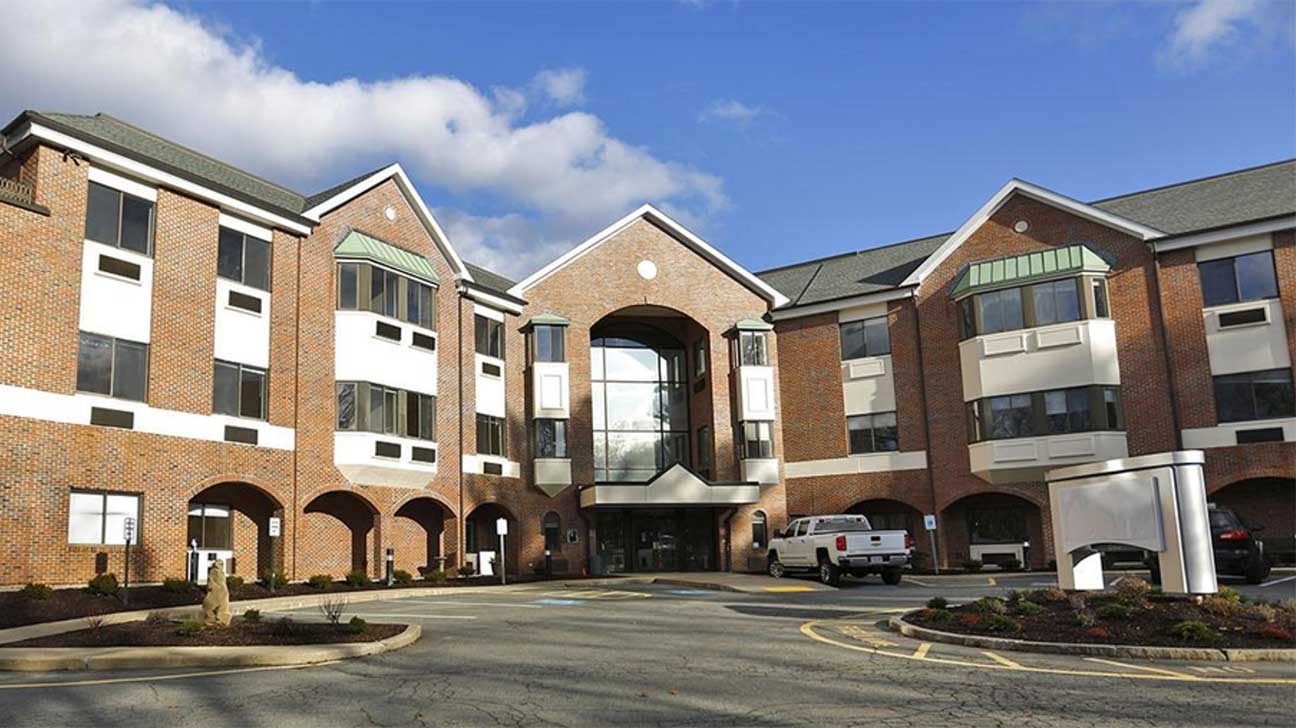 Bedrock Recovery Center, a rehab center in Canton, Massachusetts, offers a variety of options for those seeking addiction recovery.
Trusted features of this drug and alcohol rehab center include:
accreditation from the Joint Commission
accreditation from CARF
an evidence-based treatment approach
Inpatient programs here are customized to each person, and the rehab facility treats a range of alcohol and drug addictions.
Other treatment options include:
medical detox
outpatient programs
Location and contact information:
1 Meadowbrook Way
Canton, MA 02021
(855) 602-7555
4. Foundation House, Portland, Maine
At this Portland, ME rehab center, adult men can find long-term residential treatment for men only.
Drug and alcohol treatment programs are supported through the rehab center's accolades:
Joint Commission accreditation
LegitScript certification
National Association of Addiction Treatment Providers (NAATP) membership
Treatment is evidence-based and holistic-focused involving therapies and activities such as yoga and woodworking.
Location and contact information:
160 Preble St
Portland, ME 04101
(207) 791-2002
5. High Watch Recovery Center, Kent, Connecticut
High Watch Recovery Center is a highly accredited addiction treatment center in Kent, CT.
This rehab center is backed by:
Joint Commission accreditation
LegitScript certification
Substance Abuse and Mental Health Services Administration (SAMHSA) certification
NAATP membership
a 4.5-star Google rating
Inpatient rehab programs here offer customized treatment plans, treatment for a dual diagnosis, participation in 12-step programs, and more.
Location and contact information:
62 Carter Rd
Kent, CT 06757
(860) 927-3772
6. Liberty Bay Recovery Center, Portland, Maine
LibertyBay is a New England recovery center offering several addiction treatment services for for people overcoming addiction.
Trusted features of this recovery center include:
Joint Commission accreditation
LegitScript certification
a 4.6-star rating on Google
Inpatient treatment here involves:
co-occurring disorder treatment
gender-specific treatment
behavioral health treatment
Location and contact information:
343 Forest Ave.
Portland, ME 04101
(855) 607-8758
7. Serenity At Summit New England, Haverhill, Massachusetts
Serenity at Summit is a rehab facility in Haverhill, MA with holistic therapy at its core.
This alcohol and drug abuse rehab center is backed by:
Joint Commission accreditation
LegitScript certification
affiliation with the National Association for Behavioral Healthcare
Their full range of addiction treatment services include:
acute treatment
inpatient treatment
supervised detox
clinical stabilization services
Location and contact information:
61 Brown St.
Haverhill, MA 01830
(978) 312-9830
8. Spring Hill Recovery Center, Ashby, Massachusetts
Spring Hill Recovery Center is an inpatient addiction treatment center with a newly added outpatient program.
This addiction center provides inpatient rehab programs supported by Joint Commission accreditation and a membership in the NAATP.
In addition to inpatient programs, this rehab facility offers:
day treatment (partial hospitalization programs)
access to sober living
aftercare
outpatient treatment
Location and contact information:
250 Spring Hill Rd
Ashby, MA 01431
(888) 483-9514
9. Valley Vista, Bradford, Vermont
Inpatient treatment programs at this addiction center in Bradford, VT offer a variety of treatment methods, from 12-step support groups to behavioral therapy and more.
The treatment facility supports its approach to drug and alcohol treatment through:
earned CARF accreditation
membership in the NAATP
offering targeted, gender-specific treatment plans
Location and contact information:
23 Upper Plain
Bradford, VT 05033
(802) 222-5201
Choosing The Best New England Rehab Center For You
Selection criteria, such as accreditation, licensing, and client reviews, are important when it comes to choosing a rehab facility.
Equally important are factors that will ensure the drug rehab program you choose is the right one for you.
Some of these factors could include:
how much the treatment program costs, with and without insurance
levels of care, such as IOP, PHP, etc.
the rehab program's approach to addiction treatment
which types of financial assistance are available, if any
which types of health insurance the rehab center accepts
New England Drug And Alcohol Rehab FAQs
In your search for the ideal rehab center and treatment program, you may have questions along the way.
We've compiled answers to some of the most commonly asked questions regarding addiction treatment in New England below to help ease the selection process.
❓ Can I Use My Insurance To Pay For Drug Rehab In New England?
✔️ Health insurance is one of the easiest ways to mitigate the cost of alcohol and drug addiction treatment.
Coverage will vary by plan, and each rehab center will accept different forms of insurance.
Many insurance plans cover as much as up to 80% of treatment costs.
❓ Do New England Rehab Centers Accept Medicaid?
✔️ While not all rehab centers in New England will accept Medicaid, some facilities do.
View our list of rehab centers in the United States that accept Medicaid
❓ Where Can I Find Free Rehab Centers In New England?
✔️ There are free rehab centers and low-cost rehab centers in every state. Look at our list of free rehab centers by state to find a facility near you.
However, be aware that free addiction treatment is in high demand, so it may be difficult to secure a bed in one of these facilities.
❓ What Payment Assistance Is Available For Drug Rehab In New England?
✔️ Private, rehab facility scholarships, state and federal grants, and other forms of facility assistance may be available to help you pay for the cost of treatment.
❓ Are There Gender-Specific Rehab Centers In New England?
✔️ Some rehab centers in New England offer gender-specific services, such as women-only addiction treatment and men's rehab programs.
Also available in New England are rehab facilities for pregnant women and substance abuse treatment for women with children.
Find Alcohol And Drug Addiction Treatment In New England
You can find substance abuse treatment in New England at one of the many rehab facilities available.
To learn more about addiction treatment options in New England that can meet your individual needs for recovery, contact a treatment specialist today.
Find additional addiction treatment located in your area:
Updated on January 27, 2022
This page does not provide medical advice.
See more
Article resources
Addiction Resource aims to provide only the most current, accurate information in regards to addiction and addiction treatment, which means we only reference the most credible sources available.
These include peer-reviewed journals, government entities and academic institutions, and leaders in addiction healthcare and advocacy. Learn more about how we safeguard our content by viewing our editorial policy.