Minnesota offers a variety of treatment options when it comes to treating substance abuse.
These rehab facilities treat addictions to alcohol, methamphetamine, opioids, prescription drugs, and other substances through behavioral health services.
From highly structured inpatient programs to residential treatment, detox, and more, Minnesota offers a wide array of drug and alcohol abuse treatment options.
The rehab centers selected for this list were chosen for their:
accreditation status*
certifications and affiliations
partnerships and positive facility ratings
Top Rehab Centers In Minnesota
1. Allina Health, Cambridge, Minnesota
Allina Health can treat both alcohol or drug addiction and a co-occurring mental disorder such as depression, PTSD, and anxiety.
Inpatient treatment programs here involve detox, medication-assisted treatment (MAT), group and individual therapy, and more.
This rehab center is dually licensed through the Minnesota Department of Health.
Location and contact information:
701 S Dellwood St.
Cambridge, MN 55008
(763) 689-7700
Find the right treatment program today.
Call to be connected with a treatment specialist. 100% Free and Confidential.
(844) 616-3400
2. Center For Alcohol And Drug Treatment, Duluth, Minnesota
This inpatient drug rehab center offers both inpatient programs and outpatient services, including acute drug and alcohol detox programs.
Treatment programs are long-term and include gender-separate treatment program options.
The alcohol and drug rehab center is not accredited but is licensed through the state of Minnesota.
Location and contact information:
1402 E. Superior St.
Duluth, MN 55805
(218) 723-8444
3. Eden House, Minneapolis, Minnesota
Eden House offers treatment to any adult with addiction regardless of their financial status, including those in court-ordered drug rehab.
Inpatient rehab programs here are gender-separate, with room for pregnant women, and involve behavioral therapy, relapse prevention, and more.
This treatment center is not accredited but is highly rated on Google by patients in recovery.
Location and contact information:
1931 West Broadway Ave.
Minneapolis, MN 55411
(612) 287-1600
4. Lakeplace Retreat Center, Bovey, Minnesota
Lakeplace Retreat Center offers residential addiction treatment to men and women in a highly structured environment.
Treatment programs at this rehab facility include:
chemical dependency care (detox)
fellowship programs
The drug and alcohol treatment center does not hold accreditation but is rated 4.5/5 stars on Google.
Location and contact information:
25704 County Rd. 338
Bovey, MN 55709
(218) 245-1395
5. Meadow Creek, Pine City, Minnesota
Meadow Creek is an inpatient treatment facility for women over the age of 18. This drug and alcohol rehab facility treats both substance use disorders and mental health.
Customized treatment plans may include drug and alcohol abuse assessments and access to outpatient treatment.
The treatment center is backed by:
CARF accreditation
membership in the National Association of Addiction Treatment Providers (NAATP)
high ratings on Google
Location and contact information:
17305 Meadow Creek Ln.
Pine City, MN 55063
(763) 444-4838
6. New Beginnings, Waverly, Minnesota
New Beginnings provides residential treatment and intensive outpatient programs (IOP) for men and women with an alcohol or drug addiction.
This inpatient drug rehab program is based on a balance of:
alcohol and drug abuse education sessions
peer support group meetings
cognitive behavioral therapy
continuing care
The substance abuse treatment facility is a NAATP member and licensed by the Minnesota Department of Health and Human Services.
Location and contact information:
109 N Shore Dr.
Waverly, MN 55390
(800) 487-8758
7. Project Turnabout Centers For Addiction Recovery, Granite Falls, Minnesota
Project Turnabout offers separate men's and women's inpatient programs for treatment of addiction and dual diagnosis, including gambling addiction.
Licensed professionals facilitate healing through activities such as:
individual therapy
group therapy
family therapy
mental health services
physical fitness services
Trusted features of this recovery center include:
CARF accreditation
NAATP membership
partnership with the Minnesota Alliance of Rural Addiction Treatment Programs
Location and contact information:
660 18th St.
Granite Falls, MN 56241
(320) 564-4911
8. Twin Town, St. Paul, Minnesota
Twin Town is a licensed residential treatment facility for men with substance abuse issues.
During residential treatment, clients work with a dedicated therapist in both individual and group settings to work toward long-term recovery.
The rehab center is licensed by the Minnesota Department of Health and Human Services.
Location and contact information:
1706 University Ave.
Saint Paul, MN 55104
(651) 645-3661
9. Vinland National Center, Loretto, Minnesota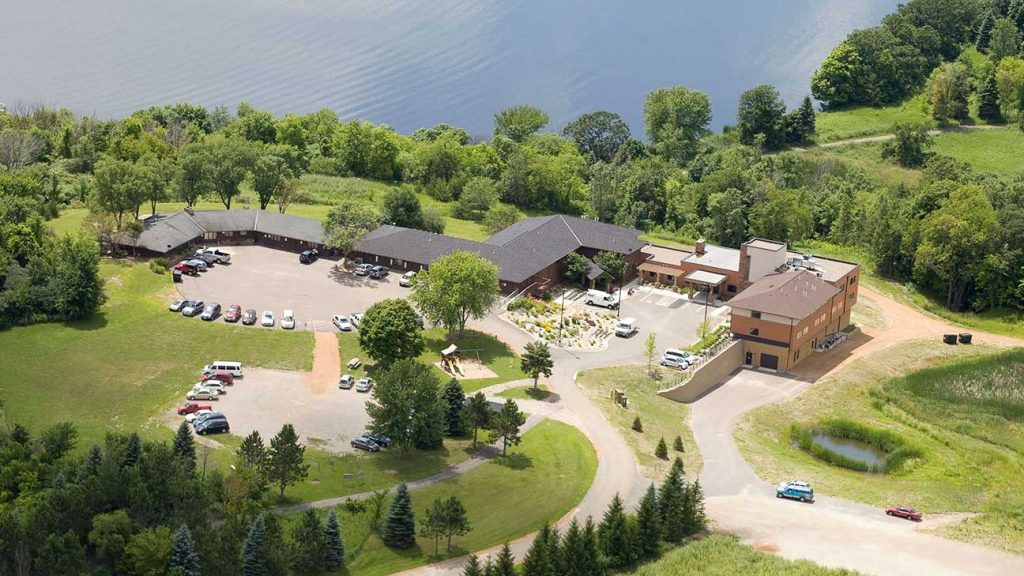 Vinland National Center provides inpatient treatment for substance use disorders, with gender-separate rehab programs for men and women.
This treatment facility is fully accredited, licensed by the state of Minnesota, and highly rated on Google.
Addiction treatment programs here include:
outpatient programs
aftercare treatment services
trauma-informed care
individual and group therapy
Location and contact information:
3675 Ihduhapi Rd.
Loretto, MN 55357
(763) 479-3555
10. Wellcome Manor Family Services, Garden City, Minnesota
Wellcome Manor provides women struggling with alcohol or drug abuse flexible inpatient rehab programs.
While in treatment, they will receive special classes geared towards child care, parenting, and family development.
The treatment center is not accredited, but is highly rated by clients in addiction recovery.
Location and contact information:
114 Pleasant St. W
Garden City, MN 56034
(866) 559-3295
Choosing The Ideal Rehab Center In Minnesota
The treatment facilities listed are just a few options for alcohol and drug treatment in Minnesota, which can make the selection process intimidating.
As you consider treatment centers for you or a loved one, keep in mind the assets a treatment center should have for positive recovery outcomes.
Some factors to consider when selecting a rehab center include:
how the rehab facility handles payments and if it offers assistance
if the treatment center accepts your insurance plan
the levels of care available, i.e. inpatient rehab or outpatient services
if detox programs are offered
how the treatment facility is addressing COVID-19 guidelines
Minnesota Drug Rehab FAQs
You may have some questions or concerns as you look for an addiction center.
Find answers to some of the most commonly asked questions regarding recovery services in Minnesota here.
❓ How Long Does Minnesota Inpatient Drug Rehab Last?
✔️ Your length of stay at an inpatient treatment center will depend on you — your recovery journey, individual needs, level of wellness, medical care, and more.
Short-term rehab programs may last between two weeks and 30 days, while long-term drug rehab may be 60 days, 90 days, six months, one year, or longer depending on your needs.
❓ How Much Does Minnesota Drug Rehab Cost?
✔️ Cost of substance abuse treatment varies greatly by the rehab center, type of program you enter, your insurance coverage, and other factors.
For example, an insurance program may cover a certain number of days for in-network inpatient treatment, while it may pay for the entire cost of an outpatient program.
❓ Do Minnesota Rehab Centers Accept Health Insurance?
✔️ This may depend on the treatment facility.
For example, a privately funded rehab center may accept a wide variety of insurance plans, while a federally or state-funded rehab center may not accept private insurance but may be low-cost.
❓ Are There Free Minnesota Rehab Centers?
✔️ A number of alcohol and drug addiction treatment centers in Minnesota offer care free of charge.
Learn about free rehab centers in Minnesota
❓ Do Minnesota Drug Rehab Centers Accept Medicaid?
✔️ Many treatment centers for substance use disorders in Minnesota accept the state's Medicaid and Medicare plans.
Find a rehab center that accepts Minnesota Medicaid
❓ Where Can I Find Outpatient Treatment For Substance Abuse In Minnesota?
✔️ Because many in addiction recovery require multiple levels of care, most addiction treatment centers provide both inpatient and outpatient rehab programs.
View our page on the best Minnesota outpatient rehab centers to explore a list of treatment centers that specialize in outpatient programs.
Find A Minnesota Rehab Center Near You
If you or a loved one or other family member are struggling with substance abuse issues, we can help.
Let us guide you to the ideal rehab program for you near Minnesota.
Call our helpline today for help with insurance verification, a list of recovery programs that meet your needs, and other addiction services.
*Though we try to include only the highest-quality rehab centers in our listings, some rehab centers listed may not be accredited due to a lack of accredited treatment centers in the state of Minnesota.
Select a city below to find a Minnesota rehab center near you:
Select a state below to find additional treatment options in a state near you:
Updated on July 16, 2021
This page does not provide medical advice.
See more