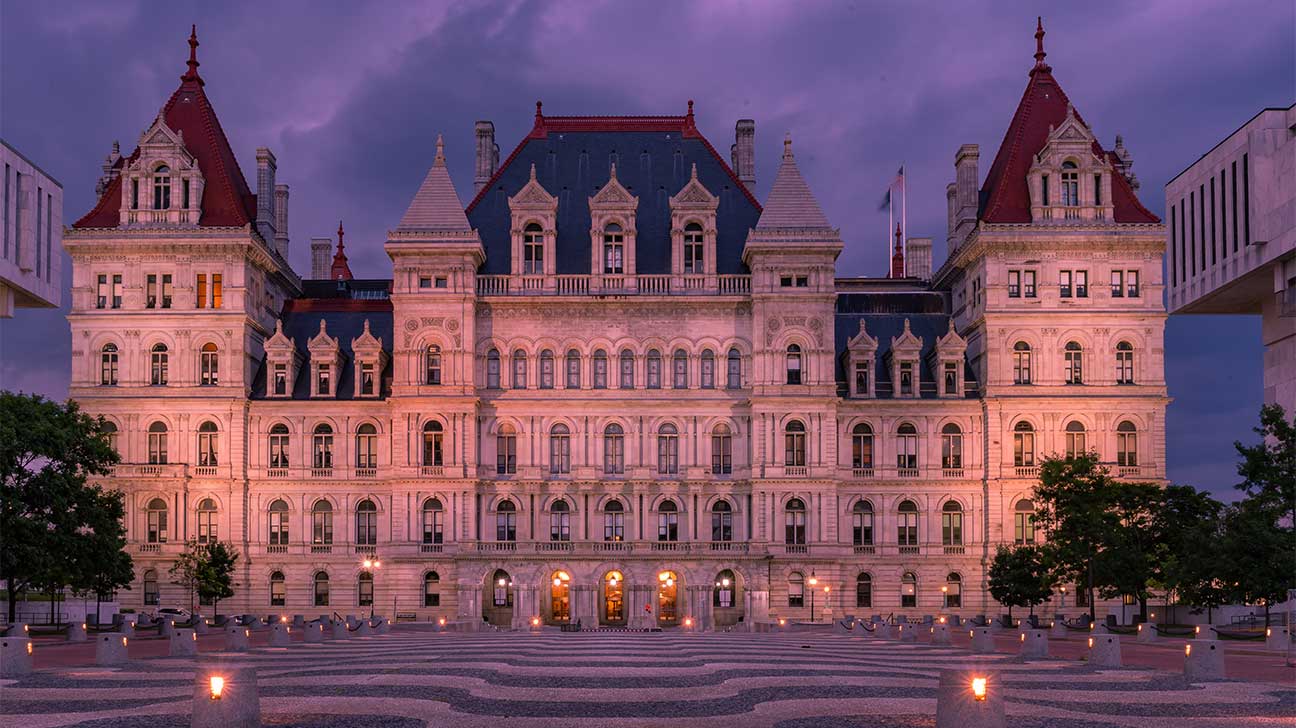 New York is home to some of the highest rates of drug and alcohol abuse in the nation, with opioid-related overdose deaths at a particularly high rate.
However, the state is also home to a number of alcohol and drug rehab centers which can help individuals break free from addiction and enter recovery.
For a rehab program that suits your individual needs, explore this list of the best alcohol and drug rehab centers in New York.
Facilities are listed only if they adhere to the highest level of addiction treatment criteria, including accreditation, positive reviews from clients, and program effectiveness. Rehab centers are ranked only in alphabetical order.
1. Arms Acres, Carmel, New York
Arms Acres provides addiction treatment for young adults and adults in New York which is accredited by the Joint Commission. Rehab programs here include medically assisted detox, outpatient treatment, and a specialized veteran substance abuse program.
Residential rehab programs are the primary form of care here and include gender-specific programs for both men and women to help individuals receive the care that is most sensitive to their specific needs.
Arms Acres offers a myriad of services, so rehab programs can be designed on an individual basis.
Available addiction treatment and co-occurring disorder treatment services include:
intensive outpatient programs
individual and group counseling
case management
dual diagnosis treatment
LGBTQ-friendly treatment
Latino-specific treatment
family counseling
anger management
early recovery skill-building
relapse prevention
medication-assisted treatment with Suboxone
Location and contact information:
75 Seminary Hill Rd.
Carmel Hamlet, New York 10512
(845) 225-3400
Find the right treatment program today.
Call to be connected with a treatment specialist. 100% Free and Confidential.
(844) 616-3400
2. Conifer Park, Glenville, New York
Conifer Park in Glenville is an inpatient alcohol and drug rehab center in New York which focuses on treating chemical dependencies. Adult residential addiction treatment is the primary form of care here, which typically begins with inpatient medical detox.
Treatment here is gender-specific, meaning men and women are housed separately and programs are individualized to address the differing and specific needs of each individual.
Therapies and treatment methods available include:
12-step Alcoholics Anonymous education
individual and group counseling
family programs
aftercare planning
recreational therapy
relapse prevention planning
In addition to residential treatment, Conifer Park also offers adolescent outpatient services, crisis counseling, and co-occurring disorder treatment.
Location and contact information:
79 Glenridge Rd.
Glenville, New York 12303
(800) 9889-6446
3. Dick Van Dyke Addiction Treatment Center, Ovid, New York
This alcohol and drug rehab center serves multiple New York counties through its 30-bed inpatient addiction treatment facility. Rehab programs here are gender-specific, serving both men and women, and are also CARF-accredited.
Those who are dependent on alcohol, opioids, or other drugs which lead to harrowing withdrawal symptoms can seek medication-assisted treatment here.
Other services available in their customized rehab programs include:
didactic lectures
group and individual therapy
co-occurring disorder treatment
24/7 medical care
This is an adult treatment center, so all clients must be 18 years of age or older, and all services are provided based on an individual's ability to pay—no one will be turned away due to lack of funding.
Location and contact information:
1330 County Rd 132
Ovid, New York 14521
(315) 835-6136
4. Erie County Medical Center, Buffalo, New York
Erie County Medical Center is a premier healthcare provider in western New York and offers residential and outpatient services accredited by the Joint Commission.
All rehab centers offering residential services for men and women are limited to 20 beds, in order to keep staff-to-client ratios low for optimal care. Emergency medical care is available 24 hours a day, 7 days a week.
Chemical dependency assessments are provided daily to help determine the appropriate level of care for each patient. Bilingual services are available for those who speak Spanish, and ECMC accepts multiple forms of insurance, as well as offers sliding-scale payment plans.
Location and contact information:
462 Grider St.
Buffalo, New York 14215
(716) 898-3000
5. John L. Norris Addiction Treatment Center, Rochester, New York
The John L. Norris Addiction Treatment Center is a state-funded rehab center offering inpatient rehab programs for adults. All programs here are CARF-accredited.
Medication-assisted treatment is available here to treat alcohol and drug dependencies and implements use of naltrexone, buprenorphine, and Vivitrol.
Inpatient programs are customized, but may include the following treatments and therapies:
cognitive behavioral therapy
individual counseling
anger management counseling
rational emotive behavioral therapy
trauma-related counseling
motivational interviewing
relapse prevention planning
This rehab center accepts private insurance plans, New York Medicaid, self-pay, and cash. In addition to treating addiction, the rehab center also offers family programming and smoking cessation treatment.
Location and contact information:
1732 South Ave.
Rochester, New York 14620
(585) 461-0410
6. Margaret A. Stutzman Addiction Treatment Center, Buffalo, New York
This alcohol and drug rehab center in Buffalo is a gender-specific rehab center for women serving the counties of Allegany, Cattaraugus, Chautauqua, Erie, and Niagara. Addiction treatment here is CARF-accredited.
The facility is a 33-bed inpatient rehab center where women can seek recovery from addiction. Residential treatment lasts from two to six weeks, depending on individual need. Treatment here is trauma-informed and available for women, pregnant women, trauma survivors, and those with co-occurring mental health disorders.
Group therapy is the primary focus here, intending to prepare women for continued outpatient therapy after completing inpatient treatment.
Rehab programs are tailored to each woman, but may include the following:
chemical dependency treatment
AA/NA meetings
family education programs
aftercare planning
Treatment services are available on a sliding-scale payment schedule.
Location and contact information:
360 Forest Ave.
Buffalo, New York 14213
(716) 882-4900
7. Phoenix House, Brooklyn, New York
Phoenix House New York has been helping addicted individuals enter recovery since 1967. Now a CARF-accredited rehab program, Phoenix House offers specialized addiction and mental health services to New York residents and their families.
Addiction treatment services provided are both inpatient and outpatient and include:
co-occurring disorder treatment
veterans services
military services
medication-assisted treatment with Suboxone
medication-assisted treatment with buprenorphine
In addition to the Brooklyn rehab facility location, Phoenix House serves New York in five other rehab locations, including in East Hampton, Hauppauge, Lake Ronkonkoma, Queens, and Wainscott. Aftercare and ongoing support is available for those in active recovery.
Location and contact information:
20 New York Ave.
Brooklyn, New York 11216
(347) 382-9995
Find The Ideal New York Inpatient Rehab Program
Addiction can disrupt every part of your life, leading to adverse changes and a number of consequences which can impact your life for years to come. Don't let addiction take hold of your life.
For help with finding the inpatient rehab program in New York that is right for you or a loved one, contact one of our knowledgeable addiction treatment specialists today.
This page does not provide medical advice.
See more
Article resources
Addiction Resource aims to provide only the most current, accurate information in regards to addiction and addiction treatment, which means we only reference the most credible sources available.
These include peer-reviewed journals, government entities and academic institutions, and leaders in addiction healthcare and advocacy. Learn more about how we safeguard our content by viewing our editorial policy.