The state of Oklahoma is home to a number of inpatient rehab programs, many of which are integrated, intensive, and specialized.
Outpatient rehab, medication-assisted treatment, and other drug and alcohol treatments are also available at Oklahoma rehab centers.
These 9 best Oklahoma drug rehab centers were chosen for:
rehab facility accreditation
certifications and licensing
favorable reviews from clients in recovery
affiliations/partnerships with addiction treatment organizations
List Of Oklahoma Rehab Centers
1. Arcadia Trails, Edmond, Oklahoma
This addiction treatment center offers an inpatient treatment program that addresses:
detoxification
substance abuse
co-occurring mental health disorders
family member relationship repair
relapse prevention
The treatment facility is CARF-accredited and also provides:
gender-specific programs
behavioral therapy
trauma-informed therapy
Location and contact information:
4851 Integris Pkwy.
Edmond, OK 73034
(405) 216-2500
Find the right treatment program in Oklahoma today.
Call to be connected with a treatment specialist. 100% Free and Confidential.
(844) 616-3400
2. Catalyst Behavioral Services, Oklahoma City, Oklahoma
Catalyst Behavioral Services offers residential treatment and outpatient programs for drug and alcohol addiction.
Recovery programs here are backed by:
licensing by the Oklahoma Department of Mental Health and Substance Abuse Services
positive reviews on Google
Drug and alcohol detox and court-ordered rehab are also available here.
Location and contact information:
3033 N Walnut Ave.
Oklahoma City, OK 73105
(405) 232-9804
3. Justin's Lighthouse, Oklahoma City, Oklahoma
Justin's Lighthouse is a faith-based, residential treatment center for drug and alcohol abuse and mental health.
This rehab facility is a therapeutic community where residents can receive counseling, participate in group therapy, and more.
Alcohol and drug treatment occurs in stages and is supported by:
testimonials from residents and their family members
a 5-star rating on Google
Location and contact information:
5207 N Beverly Dr.
Oklahoma City, OK 73105
(405) 248-2124
4. Landmark Recovery, Oklahoma City, Oklahoma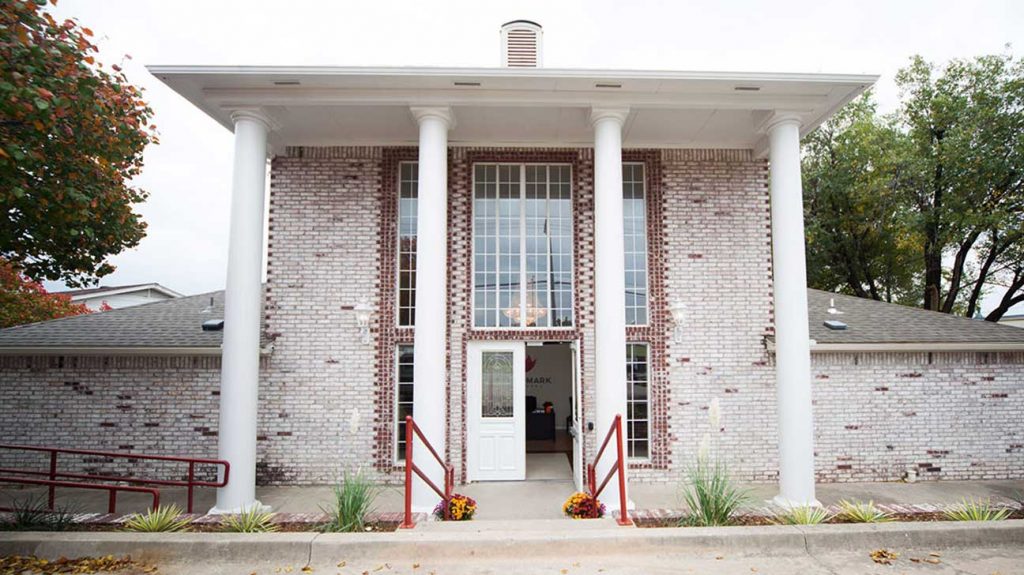 Inpatient treatment, medical detox, intensive outpatient treatment, partial hospitalization, and other substance abuse treatment programs are available at this recovery center.
The alcohol and drug rehab center is backed by:
LegitScript certification
approval from the National Association for Addiction Professionals (NAADAC)
The full continuum of care offered here includes aftercare, relapse prevention, and alumni services.
Location and contact information:
2412 N Ann Arbor
Oklahoma City, OK 73127
(405) 896-8426
5. Northcare, Piedmont, Oklahoma
This behavioral health center offers residential treatment for women, especially women with children, to help them manage substance misuse.
Treatment programs here are supported by:
SafeCare accreditation
Oklahoma Nonprofit Excellence Awards category win
Medication-assisted treatment (MAT) is available for those with addiction to opioids, and substance abuse treatment may last up to five months when needed.
Location and contact information:
7127 N. County Line Rd.
Piedmont, OK 73078
(405) 858-1749
6. Oakwood Springs, Oklahoma City, Oklahoma
Oakwood Springs is a behavioral health services center offering dual diagnosis care, mental health treatment, and inpatient drug rehab.
Other addiction treatment programs available here include:
alcohol and drug detox
intensive outpatient programs (IOP)
partial hospitalization programs (PHP)
outpatient services via telehealth
Trusted features of this recovery center include:
Joint Commission accreditation
LegitScript certification
favorable reviews from clients in long-term recovery
Location and contact information:
13101 Memorial Springs Ct.
Oklahoma City, OK 73114
(405) 438-3000
7. Rob's Ranch, Purcell, Oklahoma
Rob's Ranch offers inpatient treatment for substance use disorders in both short-term and long-term recovery programs.
Treatment methods are intensive and involve:
family involvement
Alcoholics Anonymous (AA) meetings
Narcotics Anonymous (NA) meetings
drug and alcohol use education
12-step support groups
peer recovery support
This addiction center is not accredited but is rated 4.8 stars on Google by many clients in addiction recovery.
Location and contact information:
23899 OK-74
Purcell, OK 73080
(405) 253-3838
8. Valley Hope Of Oklahoma City, Oklahoma City, Oklahoma
Valley Hope is a substance abuse and mental health services facility with rehab centers across the United States.
This drug and alcohol treatment facility is:
accredited by the Joint Commission
certified by LegitScript
a member of the National Association for Addiction Treatment Providers (NAATP)
Recovery programs include medication-assisted treatment when appropriate, as well as:
group therapy
family counseling
addiction education
relapse prevention
12-step programs
Location and contact information:
10707 Broadway Ext.
Oklahoma City, OK 73114
(405) 946-7337
9. Vizown, Tecumseh, Oklahoma
This recovery center offers dual diagnosis and residential treatment for men and women over age 18.
Treatment programs here involve equine-assisted therapy, exercise and nutritional counseling, and more.
Trusted features of this substance use treatment facility include:
CARF accreditation
certification through Certified Healthy Oklahoma
financial assistance programs
Location and contact information:
24962 Okay Rd.
Tecumseh, OK 74873
(405) 253-2020
Choosing The Ideal Oklahoma Drug Rehab Center
While there are a number of rehabilitation centers in Oklahoma, not all will offer the same recovery programs, levels of care, or treatment methods.
To select the ideal rehab center for yourself or a loved one, consider the different factors that may affect your treatment experience and recovery outcome.
Some of these include:
whether the rehab center takes your insurance plan or Medicaid
if the rehab center offers payment plans or tuition assistance
if the treatment facility provides detox programs or MAT programs
how long you need to be in treatment and the length of the rehab center's programs
if the rehab facility addresses mental illness in addition to substance abuse
how the treatment center has responded to COVID-19 restrictions and guidelines
Oklahoma Drug Rehab FAQs
Below, find answers to the most commonly asked questions regarding Oklahoma drug rehab.
❓ Does Oklahoma Offer Outpatient Treatment Options?
✔️ Outpatient treatment is always an option for your recovery.
However, you and your treatment team should take into account personal factors when weighing treatment options, including the severity of your addiction and whether you need detox.
Explore our list of outpatient rehab centers in Oklahoma
❓ Do Oklahoma Rehab Centers Offer Payment Assistance?
✔️ Depending on the rehab facility, you may be able to access sliding scale fees, payment plans, or other forms of payment assistance, such as scholarships.
Oklahoma state-funded rehab centers provide low-cost treatment to those in need.
❓ Do Oklahoma Rehab Centers Take Medicaid?
✔️ Some addiction treatment centers in Oklahoma accept Medicaid, or SoonerCare.
Learn about finding a rehab center that accepts Oklahoma Medicaid
❓ Do Oklahoma Rehab Centers Take Health Insurance?
✔️ Rehab facilities often accept health insurance, but this may depend on the type of rehab center, such as a private rehab facility or a federally funded facility.
Read more about using health insurance to pay for drug and alcohol rehab
❓ Are There Free Rehab Centers In Oklahoma?
✔️ A number of drug and alcohol treatment centers in Oklahoma offer rehab programs that are free of charge or reduced in cost.
Find more information on free rehab centers in Oklahoma
❓ Do Oklahoma Rehab Centers Offer Dual Diagnosis Treatment?
✔️ Yes. There are several accredited Oklahoma rehab centers that provide dual diagnosis treatment. These treatment programs are best for those struggling with co-occurring mental health and substance use disorders.
Find Alcohol Or Drug Treatment In Oklahoma
If you or a loved one are facing alcohol or drug use that has become disruptive in your life, entering a rehab program may be the best choice you can make.
Many people who enter inpatient rehab programs and see them through to completion enjoy lasting recovery results.
To learn more about the right rehab program for you or a family member, contact our helpline today.
Select a city below to find treatment in a city near you:
Select a state below to find additional treatment options near Oklahoma:
Updated on July 22, 2021
This page does not provide medical advice.
See more
Article resources
Addiction Resource aims to provide only the most current, accurate information in regards to addiction and addiction treatment, which means we only reference the most credible sources available.
These include peer-reviewed journals, government entities and academic institutions, and leaders in addiction healthcare and advocacy. Learn more about how we safeguard our content by viewing our editorial policy.