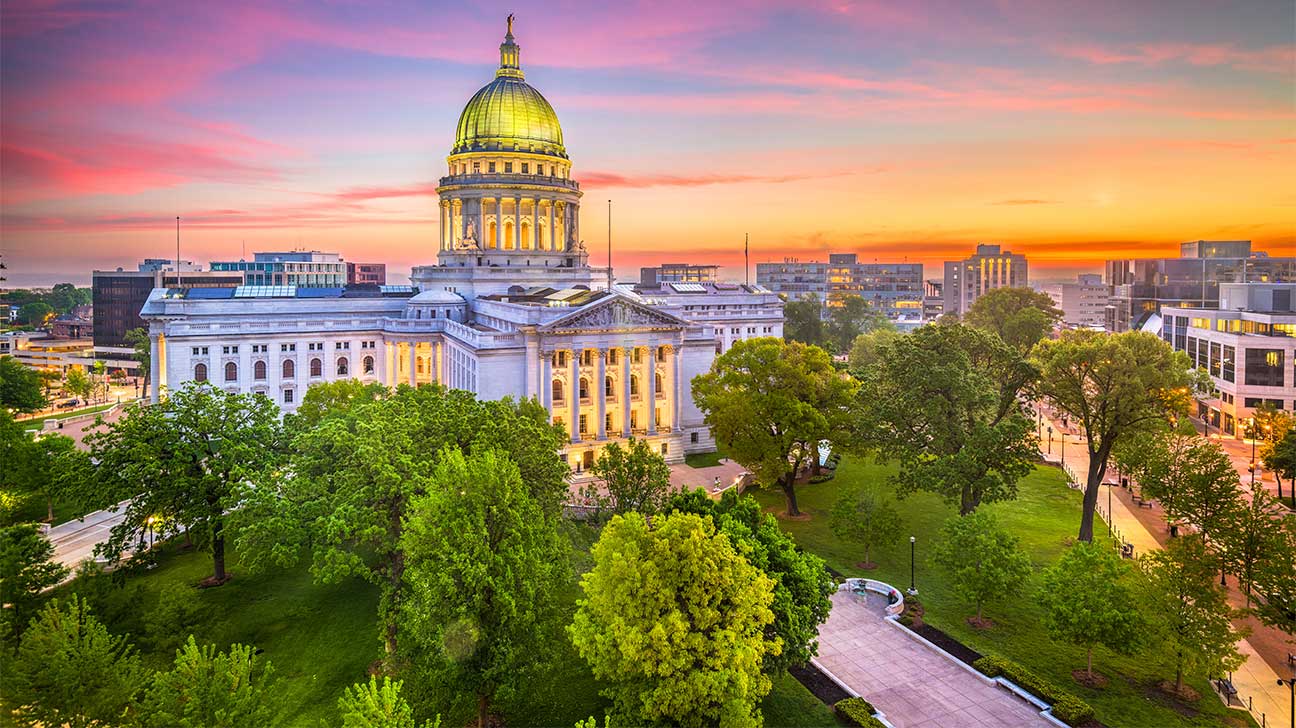 List Of The Top 8 Wisconsin Inpatient Rehab Centers
An estimated 9.5 percent of all individuals ages 12 and older have a substance use disorder in Wisconsin. Alcohol and drug abuse are at the root of many injury-related traffic crashes in the state as well.
While substance abuse is a widespread problem in Wisconsin, the state is home to accessible, affordable, and intensive, highly effective treatment programs. Most programs are customizable, meaning they can be tailored to individual needs.
Consult the following list of the 8 best alcohol and drug rehab centers in Wisconsin to find treatment in your home state for you or a loved one.
This list has been ordered alphabetically.
1. Burkwood Treatment Center, Hudson, Wisconsin
Burkwood Treatment Center has been providing addiction treatment programs for adult men and women for more than 20 years. Located near Willow River State Park, rehab programs here are CARF-accredited.
Residential rehab programs are the chief form of treatment here. Individual therapy is offered to each program participant, with a low client-to-counselor ratio of 8 to 1. Individual and group counseling are part of each program as well.
Beyond counseling and therapy sessions, residential treatment here involves a number of therapeutic intervention groups. Which groups an individual takes part in may depend on their treatment needs.
Available groups include:
process group
skills group
guided imagery group
activity group
Recovery Advocates group
Because treatment here is evidence-based and calls on 12-step principles, an additional group is available, called Making Alcoholics Anonymous Easier. The purpose of this group is to help individuals adapt to the principles of AA on their own terms.
As treatment comes to a close, staff and counselors at Burkwood work with clients to develop an aftercare plan. Individuals are referred to continuing care according to their appropriate level of need, such as intensive outpatient programs or outpatient therapy.
Location and contact information:
615 Old Mill Rd
Hudson, WI 54016
(715) 201-2130
Find the right treatment program in Wisconsin today.
Call to be connected with a treatment specialist. 100% Free and Confidential.
(844) 616-3400
2. CleanSlate Outpatient Opioid Treatment Center, Greenfield, Wisconsin
CleanSlate is committed to providing evidence-based practices for opioid addiction treatment. Treatment here closely follows standards set forth by the American Society for Addiction Medicine.
Medication-assisted treatment is the core component of rehab programs here. Medications in use include buprenorphine (Suboxone, Subutex for pregnant women) and naltrexone (Vivitrol).
The appropriate medication is prescribed following an initial evaluation after admission to the program. Treatment is paired with counseling and therapy for a comprehensive healing experience.
In addition, this treatment facility strives to provide care that is customized for every individual.
A number of specialized services and programs account for the varying needs of those affected by addiction, such as:
a specialized pregnancy program
technology to aid hearing-impaired
translating services
self-help programs
prevention services and treatment for HIV, Hepatitis C, and more
CleanSlate also provides additional services to help ease the treatment process as much as possible that may include:
transportation services
access to housing
help with insurance
other supportive services
To ensure medication-assisted treatment is most effective for each client, CleanSlate also provides randomized and regular drug screens, medication monitoring, and other medical safety practices.
Location and contact information:
4848 S 76th St
Suite 210
Greenfield, WI 53220
(414) 847-7080
3. Hope Haven, Madison, Wisconsin
Hope Haven is a non-profit addiction treatment organization and a member of United Way. Treatment here is available for those who have made it through withdrawal and detox and who are medically stable.
Treatment typically begins with primary residential treatment, which is short-term and lasts three to four weeks. Individuals in care at the North Bay Lodge rehab facility have access to care 24 hours a day and may participate in various therapies up to 25 hours per week.
Treatment programs are individualized, but may include the following services and treatments:
addiction education
art therapy
family counseling
mindfulness meditation
yoga
employment help
random drug screens
The employment help program is a six-step process which helps recovering individuals identify key issues and barriers to employment, manages these issues, and prepare to seek and secure a job.
A separate relapse prevention program is available here to help individuals prepare for long-term recovery or re-commit to recovery principles following a relapse.
Program graduates can continue to receive care through Hope Haven by attending weekly NA and AA meetings. An alumni program, with access to ongoing alumni support and events, is also available.
Location and contact information:
3602 Memorial Dr
Madison, WI 53704
(608) 251-8881
4. Meta House, Milwaukee, Wisconsin
Certified by the Substance Abuse and Mental Health Services Administration, Meta House aims to help women heal from addiction and strengthen their families.
This rehab facility has been helping women enter recovery since 1963 and became one of the first rehab facilities in the nation to allow women to bring children with them to treatment in 1988.
Both residential and outpatient rehab programs are available for women only. Residential facilities have room for up to 43 women at a time. Women can bring their children with them to treatment, as the rehab center is a Community-Based Residential Facility.
Not only can children attend the facility while their mother receives care, the facility also provides treatment for the whole family to heal from addiction through the multidisciplinary child and family team.
Outpatient treatment is available to those in continuing recovery.
Services are available according to each individual's unique recovery needs and include:
individual and group therapy
peer support
educational and vocational services
health education
nutritional guidance
parenting courses
Child care is available on-site for all rehab programs here. For those in active recovery, Meta House provides a safe, supportive, and sober community living home with affordable rates.
Location and contact information:
2625 N Weil St
Milwaukee, WI 53212
(414) 962-1200
5. New Season: Eau Claire Treatment Center, Eau Claire, Wisconsin
New Season Eau Claire Treatment Center provides medication-assisted opioid addiction treatment which is dually accredited through CARF and the Substance Abuse and Mental Health Services Administration.
To treat both physical and mental health aspects affected by addiction, New Season offers medication-assisted treatment to address withdrawal as well as counseling and therapy.
Medications available here include methadone, buprenorphine, and Suboxone.
Each program is tailored according to individual needs but integrates a number of services, such as:
individual, group, and family counseling
medication management
medically supervised detox
outpatient services
referrals for further treatment
Treatment here is available to residents in Eau Claire and surrounding areas, including Altoona, Seymour, Lake Hallie, Fall Creek, Elk Mound, and Truax.
The rehab center is open for services six days a week, including holidays, and accepts most types of insurance, self-pay, and Wisconsin Medicaid.
Location and contact information:
2000 Oxford Ave
Building 2
Eau Claire, WI 54703
(715) 834-1078
6. Nova Counseling Services, Inc., Oshkosh, Wisconsin
Nova Counseling Services provides a variety of addiction treatment services including a residential program, halfway house transitional programs, aftercare, and family support.
This facility bases its treatment approach on the 12-steps of alcoholics anonymous and believes that an in-depth education about substance abuse and the disease of addiction is key to learning how to overcome addiction and live a life of sobriety.
The residential treatment program at Nova typically lasts between four and five weeks but depends on the needs of each individual. If you are ready to seek treatment to overcome a drug or alcohol addiction, Nova Counseling Services in Oshkosh could be the answer you've been looking for.
Location and contact information:
3240 Jackson Street
Oshkosh, WI 54901
(920) 231-0143
7. Pathways To A Better Life, Kiel, Wisconsin
Pathways to a Better Life is a rehab facility licensed through the State of Wisconsin which provides residential detox, transitional residential, and day treatment programs for addiction and mental health.
This rehab facility is located on a secluded and serene 38 acres in Kiel and provides treatment for up to 16 men and women at a time. Dual diagnosis treatment for those with co-occurring disorders is offered in a specialized program in a separate, 12-bed residential facility.
Individuals here typically remain in treatment for 60 days at a time, with weekly one-on-one counseling sessions. Family is a large part of treatment here, with a weekly family alumni program available to provide support and education.
Those who are ready to transition from residential to less intensive treatment may enter the intensive outpatient program. This treatment option pairs well with those in sober living, as it provides treatment similar to residential programs in a flexible format.
For those ready for independent living within recovery, Pathways provides Sober Living options. This program requires random drug and alcohol screens, a commitment to sobriety, and participation in work, school, or an outpatient rehab program.
Location and contact information:
530 State Rd 67
Kiel, WI 53042
(920) 894-1374
8. Wisconsin Comprehensive Treatment Centers, Milwaukee, Wisconsin
Wisconsin Comprehensive Treatment Centers offers CARF-accredited, medication-assisted treatment programs for opioid and alcohol use disorders.
Treatment programs are available to adults ages 18 and older with alcohol and opioid abuse issues. Medications include methadone and buprenorphine (Suboxone and Subutex). Which medication an individual will use is determined according to an initial assessment.
While programs are individualized, each involves medication maintenance, counseling, and therapy. Available therapies here include group and individual within an outpatient format.
Medication-assisted treatment programs are available throughout Wisconsin, with two rehab locations in Milwaukee, one location in Waukesha, and one location in West Milwaukee.
Location and contact information:
4800 S 10th St
Milwaukee, WI 53211
(844) 487-8617
Find A Rehab Center In Wisconsin Today
Alcohol and drug abuse, and accidents and overdose deaths which result from it, are considered some of the biggest health risks faced by Wisconsin residents today.
Treatment can help individuals learn to manage addictive behaviors and enter recovery. To learn more about alcohol and drug rehab centers in Wisconsin, or to find the right rehab program for you or a loved one, contact us today.
Select a city below to find a Wisconsin drug rehab center near you:
This page does not provide medical advice.
See more
Article resources
Addiction Resource aims to provide only the most current, accurate information in regards to addiction and addiction treatment, which means we only reference the most credible sources available.
These include peer-reviewed journals, government entities and academic institutions, and leaders in addiction healthcare and advocacy. Learn more about how we safeguard our content by viewing our editorial policy.