Alcohol and drug abuse is a grave health concern faced by many veterans, especially those who struggle with post-traumatic stress (PTSD) disorder following service. In fact, one in 10 veterans who returned from recent wars struggled with drug and alcohol abuse.
While this health concern is a growing issue among veterans, treatment is available throughout the nation.
Many rehab facilities now offer specialized programs for veterans or provide veteran-only treatment for addiction, substance abuse, and co-occurring mental health disorders.
The following list of the 11 best veterans alcohol and drug rehab centers in the U.S. may serve as a guide to treatment facilities that offer veteran-specific or veteran-friendly treatment.
These rehab facilities aim to provide services that address issues faced by many veterans. Substance abuse treatment can help veterans reach and maintain a substance-free life as they learn to manage substance abuse and mental health issues alike.
This list has been ordered alphabetically
Top Rehab Centers For Veterans
1. Black Bear Lodge, Sautee Nacoochee, Georgia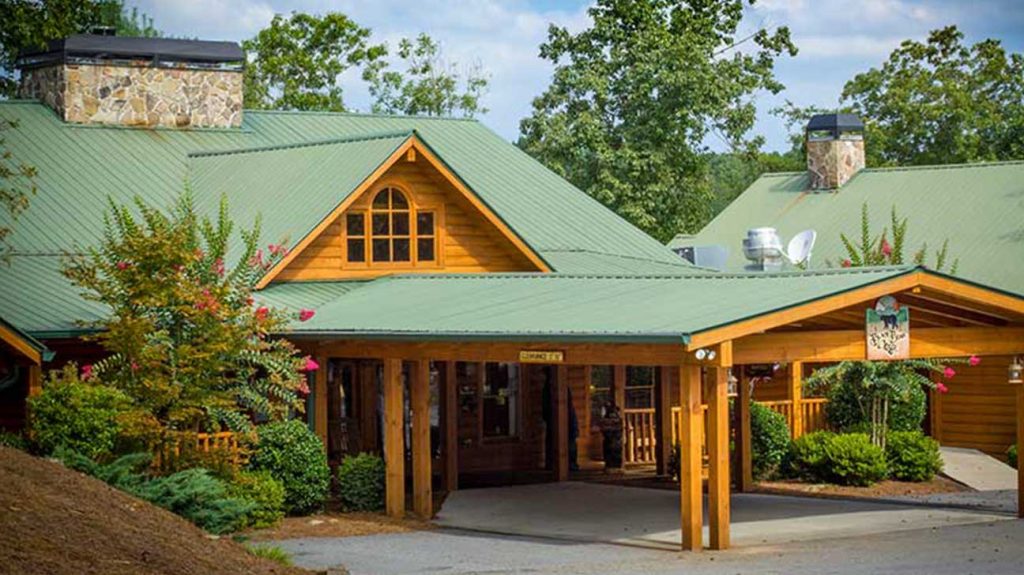 Black Bear Lodge offers evidence-based treatment accredited by the Joint Commission and serves individuals from the state of Georgia and around the world. Veteran-friendly treatment is available through Black Bear Lodge.
Treatment here is evidence-based and includes motivational interviewing (MI) in order to include veterans in treatment and help them feel supported as they achieve recovery goals.
Holistic health is the main focus here, with the ultimate goal of helping each veteran achieve health of the mind, body, and spirit.
To this end, available services include:
nutritional education
mindfulness
fitness
recreational therapy
team-building exercises
social skill-building
addiction treatment education
art therapy
experiential therapy
yoga
To provide a comprehensive recovery experience, this rehab facility also provides a wealth of evidence-based and traditional treatment methods, such as the following:
Acceptance and Commitment Therapy
Cognitive Behavioral Therapy
Dialectical Behavior Therapy
individual, family, and group therapy
gender-separate groups
Professionals group
sub-acute detox
relapse prevention planning
aftercare
Location and contact information:
310 Black Bear Ridge
Sautee Nacoochee, Georgia 30571
(844) 767-9494
Get Started On The Road To Recovery.
Get Confidential Help 24/7. Call Today!
(844) 616-3400
2. California Palms Addiction Recovery Campus, Youngstown, Ohio
The California Palms Addiction Recovery Campus is accredited by the Joint Commission and has earned certification from the Ohio Mental Health and Addiction Services board for treatment standards.
This rehab facility provides specialized rehab programs for veterans and military personnel. Long-term residential treatment is veteran-specific and customized to the needs of each veteran.
This means treatment length is determined by veteran need and recovery progress. Upon admission, each veteran is assessed to address any and all health needs. Long-term care may involve counseling, a number of therapies, and other treatment services.
Methods utilized in long-term residential treatment for veterans include:
12-step principles
addiction education
Cognitive Behavioral Therapy
family therapy
other behavioral therapies
individual and group therapy
medication management
occupational therapy
recreational therapy
movement therapy
music therapy
physical therapy
This rehab center accepts a number of veterans insurance programs and Medicaid, including:
Humana Military
Triwest
Veterans Choice
VA Community Care
VA Mission Act
CareSource
Buckeye Health Plan
Molina Healthcare
Paramount Advantage
UnitedHealthcare Community Plan
Location and contact information:
1051 N. Canfield Niles Rd.
Youngstown, Ohio 44515
(330) 935-2663
3. Ed Thompson Veterans Program, Queens, New York
The Ed Thompson Veterans Program in Queens is accredited by OASAS and offers men-only residential and medication-assisted treatment for veterans.
Residential treatment length is determined according to individual needs and the facility has room for up to 50 male veterans at a time.
Which services a veteran will need are determined on a case-by-case basis, but may include the following:
12-step-based lectures
anger management training
HIV prevention education
case management
family reunification therapy
individual and group therapy
on-site medical care
Seeking Safety
moral reconation therapy
recreational therapy
vocational support services
This same facility also offers a women's veterans program through Samaritan Village, Inc. in Ellenville, New York. This program serves female veterans, with treatment grounded in trauma-informed care.
Services here include many of the same as the men's program, but also include services that may address many issues specific to women and veterans, such as:
gender-specific care
intensive case management
trauma-informed care
prolonged exposure therapy
health and wellness services
MST and PTSD services
individualized discharge planning
Location and contact information:
3015 89th Road Richmond Hill
Queens, New York 11418
(718) 849-3582
4. Emmanuel House, Detroit, Michigan
This facility began as a one-bedroom townhouse in 1997 serving homeless and drug-addicted individuals.
Emmanuel House has now served over 3,000 individuals, with room for up to 120 individuals at a time across its programs.
Emmanuel House aims to help any and all who are homeless, addicted, or who need help rebuilding their lives in one way or another. Their clientele is 92 percent veterans and homeless individuals.
Rehabilitation programs available to veterans here include:
transitional housing program
substance abuse recovery and assistance program
housing assistance
mental health programs
emergency shelter program
dual diagnosis treatment
The core of treatment here is transitional housing, which is funded through the Department of Veterans Affairs Health Care for Homeless Veterans (HCHV). The ultimate goal of this program is to help veterans achieve housing stability while increasing skills, income, and self-confidence and awareness.
A residential program, transitional housing can last for up to 24 months for each veteran and offers the following services:
AA/NA meetings
substance dependency counseling and therapy
life-skills training
parenting courses
budgeting courses
educational assistance
crisis and suicide prevention
intervention services
peer mentorship and coaching
job readiness and employment support
family strengthening services
faith-based treatment
Family involvement is strongly encouraged here to foster a strong support system for veterans. Each veteran also receives customized and ongoing case management to afford them the greatest opportunity for a successful recovery outcome.
Location and contact information:
9616 Brace St.
Detroit, Michigan 48228
(313) 397-2372
5. The Farley Center, Williamsburg, Virginia
The Farley Center provides JCAHO-accredited treatment. Specialized treatment tracks are available to not only veterans, but active-duty service members, reserve military personnel, and their families.
Addiction treatment takes on a comprehensive approach and includes both evidence-based therapy and a variety of pharmacotherapies (medication-assisted treatment).
This facility aims to help veterans and service members by addressing issues which are unique to these groups of people.
Staff, counselors, clinicians, and physicians have experience treating the following:
altered family dynamics
emotional stress of duty: combat exposure, injuries, and violence
issues related to full-time military service
multiple or prolonged deployments
the transition back to civilian life
To further hone treatment, rehab programs are separated into adult and young adult programs, with the young adult program serving those ages 18 to 25.
All programs are individualized and include a variety of treatment methods such as:
activity therapy
experiential therapy
mandala therapy
group and individual therapy
continuing care
Location and contact information:
5477 Mooretown Rd.
Williamsburg, Virginia 23188
(757) 280-1303
6. Heroes' Mile, DeLand, Florida
This unique alcohol and rehab center was designed by veterans for the treatment of veterans. Here, those who have served can find comprehensive addiction treatment programs which offer evidence-based treatment methods.
Heroes' Mile takes into account the many issues veterans may be facing, including PTSD, military-induced trauma, military sexual trauma, and other psychological issues borne out of their time of service.
Each veteran who comes to treatment here will meet one-on-one with a treatment specialist to create a treatment plan that is specific to their needs. Detox services are available for those who need them.
Rehab programs here follow a 12-step approach and may include the following therapies:
veteran-specific individual therapy
counseling
art therapy
eye movement desensitization and reprocessing (EMDR)
group therapy
family services
recreational therapy
nutritional treatment components
job-readiness preparation and training
Location and contact information:
2775 Big John Dr.
DeLand, Florida 32724
(888) VET-NOW2
7. Phoenix House New York, Hauppauge, New York
Phoenix House New York offers specialized treatment for veterans and military personnel which is CARF-accredited. Residential treatment is the main form of care here.
While each veteran's treatment stay is determined according to their needs, treatment stays can last from one week up to a year or more, if needed. Treatment through the Hauppauge Center is gender-specific for men only.
Services available to veterans here include:
clinical assessment
individual and group counseling
case management
individual discharge planning
In addition, all veterans within Phoenix House New York programs have access to additional support and recovery services. These include Healthy Marriage and Responsible Fatherhood programs. Staff also provides relationship education, parenting workshops, and debt and financial services.
Location and contact information:
220 Veterans Memorial Hwy
Hauppauge, New York 11788
(844) 815-1508
8. Recovery First Treatment Center, Hollywood, Florida
Recovery First Treatment Center provides specialized veterans rehab programs that are dually accredited by CARF and the Joint Commission.
Treatment here includes a full spectrum of care, including the following rehab programs:
medical detox
residential rehab programs
partial hospitalization programs
intensive outpatient programs
sober living
Trauma-informed care here serves veterans as well as first responders. Gender-specific care is available, as well as specialized mindfulness-based and spiritual tracks.
Programs are tailored to each veteran who enters treatment. Which methods will be included in his or her program is determined according to their addiction severity, mental health needs, and recovery progress.
Available therapies and treatment services include:
Cognitive Behavioral Therapy
Dialectical Behavior Therapy
process group therapy
motivational interviewing
medication-assisted treatment
aftercare planning
Those who are ready to transition from residential or day care programs will prepare an aftercare plan, which may include12-step recovery meetings, sober living options, and an alumni network program.
Location and contact information:
4110 Davie Road Extension
Hollywood, Florida 33024
(888) 783-6784
9. Ridgeview Ranch Treatment Center, Altadena, California
Ridgeview Ranch Treatment Center is a veteran-approved alcohol and drug rehab center offering CARF-accredited treatment for substance abuse and co-occurring mental health disorders.
Treatment is evidence-based and includes a continuum of care. The Veterans Program is specialized to meet the treatment needs many veterans face.
Available rehab programs for veterans include:
residential drug and alcohol rehab programs
partial hospitalization programs
outpatient rehab programs
dual diagnosis rehab programs
Residential treatment for veterans is short-term, lasting between 30 and 60 days. Following detoxification, residential treatment involves group and individual counseling, therapy, and around-the-clock medical care and support.
In partial hospitalization programs (PHPs), veterans still have access to on-site housing and support from staff. However, treatment is less intensive, with therapy and counseling occurring three to five days per week.
Outpatient programs are for those veterans who are not in need of intensive treatment and who may benefit from supportive services. Such services include individual and group therapy, counseling, and relapse prevention skill-building.
Within all rehab programs, veterans have access to dual-diagnosis treatment. This means any veterans who struggle with PTSD or other mental health issues, or another substance use disorder, can find effective treatment here.
Location and contact information:
741 W. Woodbury Rd.
Altadena, California 91001
(877) 526-7706
10. St. Joseph's Addiction Treatment And Recovery Centers, Saranac Lake, New York
The St. Joseph's residential program for veterans offers a specialized treatment with an integrated, holistic approach. This facility is accredited by OASAS.
Treatment begins with a clinical assessment, which determines the course and length of stay.
Rehab programs are individualized, but may include:
evaluations
addiction and prevention education
individual counseling
specialized group therapy
pastoral care/spiritual services
recreational activities
yoga
Tai Chi
family therapy and addiction education
In addition, St. Joseph's strives to provide supportive services to veterans, such as co-occurring mental health treatment, a statewide support network, gender-specific treatment for women, and legal support services.
Aftercare planning begins soon after veterans begin treatment to ensure continued recovery progress.
Aftercare plans may include a stay at a Guest House from six to 12 months for transitional living or referral to continued care.
Location and contact information:
258 Broadway
Saranac Lake, New York 12983
(518) 891-7361
11. Volunteers Of America, Camden, New Jersey
Volunteers of America was established in 1896 in Philadelphia and became incorporated in 1985. Today, the program operates 44 separate locations providing community assistance including programs for housing assistance and behavioral health.
Home For The Brave, a specialized veterans program, is offered in the Camden, New Jersey location. This program is a 30-bed, low-demand transitional housing program for single, male veterans.
Veterans may reside at this facility for up to two years. During their stay, they may work toward a number of goals, including addiction recovery, improving mental health, finding stability, establishing education or employment, and more.
The core focus of treatment here is both trauma-informed care and harm reduction, as well as providing supportive housing and services to homeless veterans in need. This program also partners with the VA liaison and other veterans' service providers.
Services provided to veterans at Home For The Brave include:
around-the-clock access to onsite support from staff
connection to veterans benefits
enrollment in the Homeless Veterans' Reintegration Program (HVRP), funded by the Department of Labor
financial planning, budget, and tenant education
support in healthcare enrollment and obtaining ID
referral services for substance abuse treatment and mental health care
Location and contact information:
531 Market St.
Camden, New Jersey 08102
(856) 854-4660
Choosing The Ideal Veterans Rehab Program For You
Veterans may need drug and alcohol treatment at higher rates than the general population.
That is why it's so important that each veteran find a rehab program that is right for them.
As you review treatment options, here are some factors to help you find the veteran rehab program that is right for you or a loved one:
whether the rehab program is veteran friendly or veteran-specific
if the rehab center accepts VA health care benefits or other types of insurance coverage
if the treatment center offers payment plans or other forms of assistance
what other resources the rehab facility offers for veterans, such as help with housing or employment
whether the treatment center is open during COVID-19
if the rehab center offers long-term continuing care options
Veteran Drug Rehab FAQ
The following are answers to some of the most commonly asked questions regarding substance abuse treatment for veterans.
Are There Free Veterans Rehab Centers In The U.S.?
Do Veterans Rehab Centers Accept Medicaid?
Can I Use My Health Insurance For Veteran Addiction Treatment Programs?
Depending on the type of rehab facility, you may be able to use your insurance plan to pay for alcohol and drug treatment.
For example, some private addiction treatment centers do not comply with insurance coverage.
What Types Of Payment Assistance Are Available For Veterans Drug Rehab?
If you do not have access to insurance, you may be able to work out a payment plan with your rehab facility of choice, such as sliding scale fees.
Certain treatment centers provide private scholarships to those who qualify, and some rehab centers have grant funds available as well.
Can Veterans Still Get Help For Substance Abuse During COVID-19 Restrictions?
While many addiction centers experienced shutdowns or partial closures due to COVID-19, most are open and operating now.
They may have increased safety protocols in place and offer virtual treatment options for clients as an alternative to in-person treatment.
Finding Drug And Alcohol Treatment For Veterans
Veterans in the U.S. struggle with drug and alcohol abuse at alarmingly high rates. The very best aid veterans can receive is through specialized drug and alcohol rehab programs.
Select a state to find a rehab center for veterans near you:
Select a nearby city to find a Connecticut rehab center for veterans:
Select a city to find a Massachusetts rehab center for veterans:
Choose a city below to find a veterans rehab center in Maine:
Select a city below to find a New Hampshire rehab center for vets:
Choose a city below to find a New Jersey veteran rehab center:
Select a city below to find a New York veteran rehab center:
Select a city below to find a rehab center for vets in Ohio:
Choose a city below to find a Rhode Island rehab center for vets near you:
Select a city below to find a Vermont veterans rehab center:
Updated on August 10, 2021
This page does not provide medical advice.
See more
Article resources
Addiction Resource aims to provide only the most current, accurate information in regards to addiction and addiction treatment, which means we only reference the most credible sources available.
These include peer-reviewed journals, government entities and academic institutions, and leaders in addiction healthcare and advocacy. Learn more about how we safeguard our content by viewing our editorial policy.