From June 2018 to May 2019, Maricopa County, where Phoenix is located, saw 1,350 deaths due to drug overdose, most often involving opioids, alcohol, or methamphetamine.
Rehab centers in Phoenix and throughout the area work to combat this crisis by providing a range of treatment programs to fit the various needs of those entering treatment.
A number of inpatient rehab programs in Phoenix adhere to the 12-step program, and many offer behavioral therapies such as cognitive behavioral therapy (CBT).
List Of Phoenix Drug Rehab Programs
​In Phoenix, recovering individuals can find top-notch substance abuse treatment at several rehab facilities.
We chose the top nine drug and alcohol rehab programs in Phoenix based on:
accreditation
client testimonials
Google ratings
certifications and awards
other important criteria for selection
1. A Better Today Recovery Services, Phoenix, Arizona
This Phoenix rehab center provides patients with individualized care plans, individual and group counseling and therapy, and 12-step programming.
Thirty-, 60-, and 90-day rehab programs are available here, as well as treatment for mental health.
A few of the top features of this treatment facility include:
a 4.3-star Google rating
evidence-based treatment
Other therapies offered here that help patients heal from substance abuse are:
equine therapy
family therapy
strength and yoga therapy
cognitive behavioral therapy
nutritional therapy
Location and contact information:
4801 E McDowell Rd.
Phoenix, AZ 85008
(888) 906-0952
Get Started On The Road To Recovery.
Get Confidential Help 24/7. Call Today!
(844) 616-3400
2. Calvary Healing Center, Phoenix, Arizona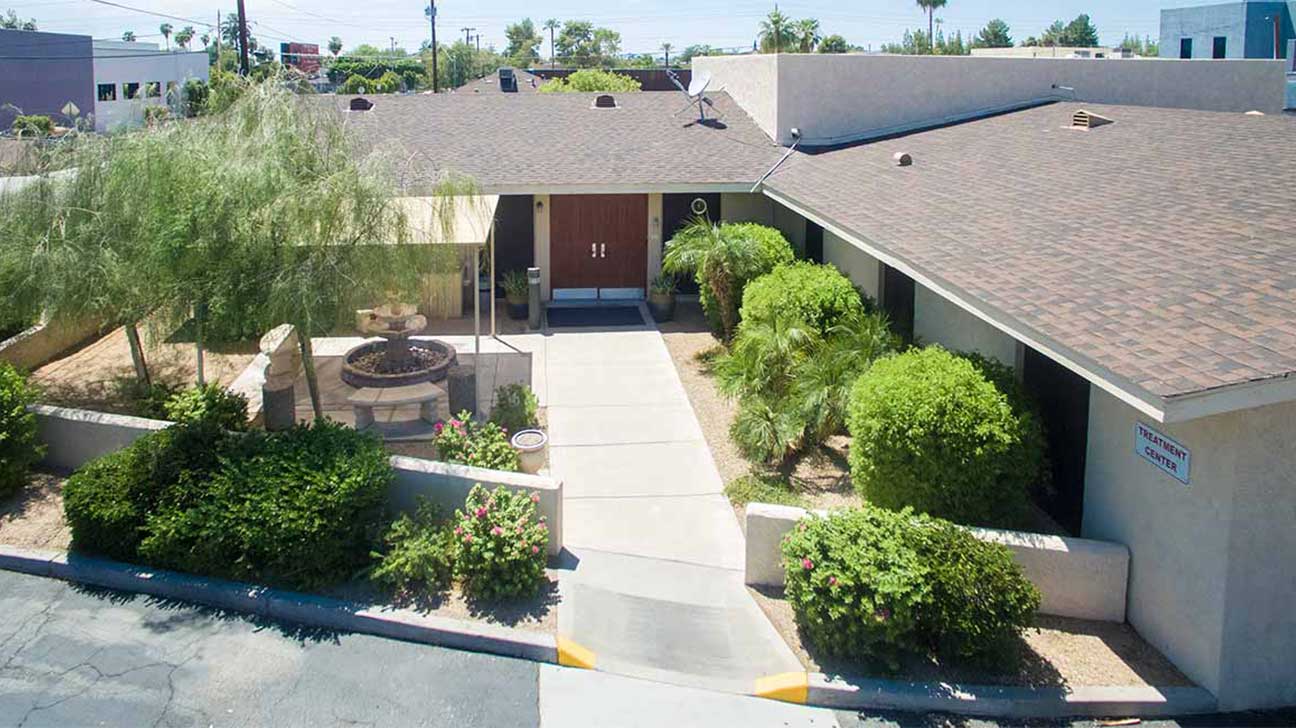 Calvary Healing Center offers residential, outpatient programs (OP), and partial hospitalization programs (PHP) to help clients overcome addiction to drugs or alcohol.
Features of this addiction treatment center include:
positive client reviews and Google ratings
LegitScript certification
During the residential treatment program, patients can participate in:
one-on-one therapy
addiction and recovery education
relapse prevention
​recreational therapy
Location and contact information:
720 E. Montebello Ave.
Phoenix, AZ 85014
(602) 755-2959
3. Crossroads, Phoenix, Arizona
Crossroads offers treatment options such as residential inpatient and outpatient treatment programs.
The residential treatment plan is called "Right Track," and involves 60-day intensive residency, peer mentoring, counseling, aftercare, and more.
Trusted qualities of this addiction recovery center include:
4.6 stars on Google
evidence-based methods of treatment
recognition from Newsweek as one of 2020's best addiction treatment centers
Location and contact information:
2002 E. Osborn Rd.
Phoenix, AZ 85016
(602) 263-5242
4. Ebony House, Phoenix, Arizona
This is a men's residential treatment program for substance use disorders.
Here, men 18 years of age and older can participate in peer support groups, counseling, family intervention, and more.
Ebony House is supported by:
evidence-based treatment
the U.S. Department of Health & Human Services
the Centers for Disease Control and Prevention (CDC)
Location and contact information:
6222 S. 13th St.
Phoenix, AZ 85042
(602) 276-4288
5. Lifewell, Phoenix, Arizona
This is a non-profit health care agency that provides substance abuse and mental health services for low-income clients.
Programs offered here include residential, outpatient, medication-assisted treatment (MAT), and community living.
Marks of quality service include:
evidence-based treatments
positive testimonials
Location and contact information:
40 E. Mitchell Dr.
Phoenix, AZ 85012
(602) 808-2800
6. The River Source, Phoenix, Arizona
This rehab facility has a residential inpatient rehab center in Phoenix, as well as PHP, intensive outpatient program (IOP), and telehealth IOP.
The River Source features holistic treatment and uses both medication-assisted detoxification and naturopathic medicine to help ease withdrawal symptoms.
Treatment programs here are supported by:
LegitScript certification
verification from Psychology Today
membership with the National Association of Addiction Treatment Providers (NAATP)
Location and contact information:
2432 W Peoria Ave.
Suite 1227
Phoenix, AZ 85029
(855) 561-5930
7. The Salvation Army, Phoenix, Arizona
This is a faith-based, 180-day residential work-therapy program for adult rehabilitation. There is no fee for certain qualifying members of the program.
Notable qualities of this rehab program include:
client success stories
a 4.3-star Google rating
accreditation from the Evangelical Council for Financial Accountability (ECFA)
accreditation from the BBB
Location and contact information:
1625 S. Central Ave.
Phoenix, AZ 85004
(602) 256-4500
8. Teen Challenge of Arizona, Phoenix, Arizona
Teen Challenge offers a men's center in Phoenix, which provides residential recovery for men aged 18 and up.
The faith-based program involves:
community outreach
classroom studies
group and individual mentoring programs
work studies
chapel services
Features of the Teen Challenge are:
BBB accreditation
ECFA accreditation
Location and contact information:
1515 W. Grand Ave.
Phoenix, AZ 85007
(602) 271-4084
9. Vogue Recovery Center, Phoenix, Arizona
Vogue Recovery Center is a luxury drug rehab center in Phoenix that provides men's and women's residential and inpatient addiction treatment services.
Drug treatment also includes medication-assisted detox and 24-hour monitoring for patients who are going through withdrawal.
Behavioral health services at Vogue Recovery Center are backed by:
a 4.7-star Google rating
accreditation from the Joint Commission
verification from Psychology Today
LegitScript certification
accreditation from the Better Business Bureau (BBB)
The rehab center offers a great many addiction therapies, including:
cognitive behavioral therapy
dialectical behavior therapy
solution-focused and structured family therapy
EMDR
neurofeedback
Location and contact information:
4122 N. 17th St.
Bldg. A
Phoenix, AZ 85016
(855) 495-1791
What Happens At A Phoenix Drug Rehab Program?
Inpatient and residential rehabilitation centers offer 24-hour treatment under the care and supervision of clinicians, psychologists, and trained professionals.
This is the ideal environment for detox and long-term recovery, as these programs often mold to the individual needs and recovery goals of each client.
At a Phoenix inpatient program, you can expect:
30 to 90 days of treatment
at some locations, a dual diagnosis for co-occurring disorders
group outings and recreation
living accommodations
therapy
educational addiction treatment programs and classes
What Other Treatment Options Are Available In Phoenix?
​If you're looking for a long-term, overnight program, inpatient and residential is the best option. However, if you want something part-time, there are plenty of other options.
Here are some of the other treatment programs offered in Phoenix:
outpatient programs
intensive outpatient programs
partial hospitalization
outpatient counseling
12-step groups
short-term detoxification (usually involves up to 10 days of treatment)
Phoenix Drug And Alcohol Addiction Treatment FAQs
To help you figure out which recovery program is right for you or your loved one, we've answered several top asked questions about Phoenix drug rehab facilities.
❓ How Many Rehab Programs Are In Phoenix?
✔️ There are dozens of rehab programs in Phoenix, but not all offer inpatient and residential treatment options. Some may be restricted to detox or outpatient programming.
❓ What Is The Average Length Of Stay At The Phoenix Drug Rehab?
✔️ Most recovering individuals stay in rehab for at least 30 and up to 90 days.
❓ What Is The Average Cost Of A Drug Rehab Program In Phoenix?
✔️ The average cost of rehabilitation in Phoenix depends on the program.
Follow these general cost guidelines:
short-term detox: $300 to $1,500
outpatient program: $5,000 to $8,000
inpatient program: $10,000 to $15,000
residential program: $15,000 to $30,000
Find out how to use insurance to pay for addiction treatment
How To Find Alcohol And Drug Addiction Treatment In Phoenix
There are many Phoenix drug rehab programs to aid in the recovery process for yourself or a loved one.
Find treatment in a city near you:
Updated on February 22, 2022
This page does not provide medical advice.
See more
Article resources
Addiction Resource aims to provide only the most current, accurate information in regards to addiction and addiction treatment, which means we only reference the most credible sources available.
These include peer-reviewed journals, government entities and academic institutions, and leaders in addiction healthcare and advocacy. Learn more about how we safeguard our content by viewing our editorial policy.