There are many long-term residential rehab centers in Montana that provide access to specialized inpatient treatment programs for those in need.
These long-term rehab programs can be especially beneficial to those seeking recovery from long-term drug addiction or a history of polydrug substance abuse.
Additionally, the length of these programs ensures that each client receives the specialized and individualized treatment plans they need to achieve lasting sobriety.
List Of Long-Term Drug Rehab Centers In Montana
The drug and alcohol rehab centers listed below were selected for their provision of long-term treatment options, accreditations, certifications, and other meritable marks of quality care.
1. Montana Chemical Dependency Center, Butte, Montana
This state-run addiction treatment center in Montana provides clients with access to comprehensive outpatient services as well as long-term inpatient treatment programs.
This Montana drug rehab center provides access to:
individual and group therapy
outpatient treatment
mental health and behavioral health treatment programs
transition planning
spiritual and faith-based therapy
relapse prevention planning and education
medically monitored inpatient treatment
Alcoholics Anonymous (AA) and Narcotics Anonymous (NA) counseling sessions
Features of this rehab center are:
program certification from the American Society of Addiction Medicine (ASAM)
licensing from the Montana Department of Public Health and Human Services (M-DPHHS)
published client testimonials
Location and contact information:
525 E. Mercury St.
Butte, MT 59701
(406) 496-5400
Get Started On The Road To Recovery.
Get Confidential Help 24/7. Call Today!
(844) 616-3400
2. Rimrock Foundation, Billings, Montana
This comprehensive adult inpatient program in Billings, MT, provides clients with extended-duration rehab services.
Addiction rehab services and programs available at this facility include:
individual and group counseling
psychiatric services
access to 12-step programs
medication management
residential treatment and recovery housing
individualized treatment plans
24/7 medical monitoring
educational and vocational programs
detox from opioids, methamphetamine, cocaine, and other substances
aftercare programs
Notable features of this addiction treatment center are:
a LegitScript certification
Level 3.1 and 3.5 ASAM-certified treatment programs
membership with the National Association for Addiction Treatment Providers (NAATP)
published reviews from past clients
Location and contact information:
1231 N. 29th St.
Billings, MT 59101
(406) 248-3175
3. Rocky Mountain Treatment Center, Great Falls, Montana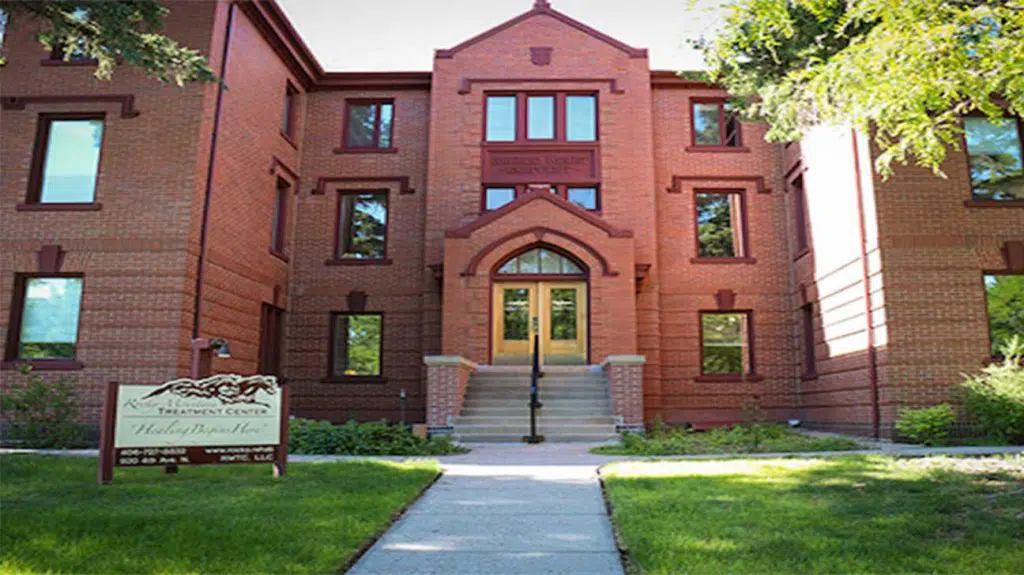 This drug and alcohol rehab facility in Great Falls, Montana, provides clients with 30 to 90-day residential inpatient treatment programs.
This facility provides access to the following addiction treatment services and programs:
24/7 medically monitored drug and alcohol detox
intensive inpatient programs
family programs
optional faith and spirituality-based therapy
partial hospitalization programs (PHP)
day treatment services
individualized treatment programs
mental health counseling
This facility bears the following meritable marks:
licensing from M-DPHHS
certification by LegitScript
a 4.6-star Google rating
Location and contact information:
920 4th Ave. N.
Great Falls, MT 59401
(406) 727-8832
What To Expect During Long-Term Addiction Treatment In Montana
The first thing to expect when entering into a long-term rehab program in Montana is to go through a comprehensive detoxification program.
These programs address any withdrawal symptoms or side effects as a result of chemical dependencies and clear the body of any leftover metabolites or trace substances.
Once this has been completed, clients are transitioned into partial hospitalization programs (PHP) or comparable medically monitored inpatient settings.
From there, on-campus medical staff re-evaluate the current physical and mental health of each client, then assign and enroll them into the appropriate level of care.
Additional levels of care include:
outpatient programs
inpatient programs
drug abuse counseling programs
aftercare services
drug and alcohol addiction education
behavioral therapy
individual, family, and group therapy
dual diagnosis treatment for co-occurring disorders
medication-assisted treatment (MAT) with methadone, buprenorphine, and other medications
short-term and long-term recovery housing
residential treatment
relapse prevention classes
holistic and alternative wellness programs
sober living housing
FAQs For Long-Term Drug And Alcohol Treatment Facilities In Montana
Find answers in the list below to some of the most commonly asked questions concerning long-term drug rehab centers in Montana.
Do Long-Term Rehab Centers In Montana Accept Pregnant Women?
Many long-term drug and alcohol rehab centers in Montana treat pregnant women, including providing primary care services.
However, not every addiction treatment provider has the resources to provide many of the specialized care services necessary to treat pregnant women with SUDs.
For this reason, you should contact the treatment center you have selected to verify whether you or a pregnant woman you know will be accepted prior to enrollment.
What Payment Methods Are Accepted At Long-Term Rehab Centers In Montana?
Drug and alcohol rehabilitation centers in Montana accept a number of payment options, but each rehab center varies in what types of payment methods it chooses or is licensed to accept.
Commonly accepted payment options at these rehab centers include:
private health insurance plans
Medicare
TriCare
sliding-scale payment systems
self-pay or private-pay plans
scholarships from public and private organizations
federal grants from the Substance Abuse and Mental Health Services Administration (SAMHSA)
Access-to-Recovery (ATR) vouchers
How Long Will I Stay At A Long-Term Rehab Center In Montana?
The answer to this question ultimately depends on your physical and mental health status, as well as the substance or substances currently facilitating the addiction, during the initial assessment.
Most long-term rehab centers provide minimum-duration treatment programs that can be anywhere from 30 to 120 days in length.
Some rehab centers also extend the length of residential treatment programs for individual clients depending on requests, circumstantial reasons, or as necessary.
Find Long-Term Substance Abuse Treatment In Montana Today
If you or a loved one is looking for a long-term addiction treatment program in Montana, give our free helpline a call today.
Published on August 17, 2022
This page does not provide medical advice.
See more
Article resources
Addiction Resource aims to provide only the most current, accurate information in regards to addiction and addiction treatment, which means we only reference the most credible sources available.
These include peer-reviewed journals, government entities and academic institutions, and leaders in addiction healthcare and advocacy. Learn more about how we safeguard our content by viewing our editorial policy.